Home
›
Main Category
›
Hunting
Quick hunt tonight......
Hogs are still tearing up our 40acres so Bloodhound and I made a 45min drive up to the property this afternoon to have a quick look.
Get to the gate, open it and park inside. While unloading our gear, Bh says "There's a pig up there". Sure enough we could see a black boar at the far end of the property.
A quick check of the wind and we walked up the left hand boundary to the last paddock. As we crested a rise we saw the boar about 140m away with its back to us rooting around in the grass. Being the gentleman that I am I quietly told Bh the range and to take the shot. He gets down, extends his bipod and lines up.He had to wait about 2 minutes for the pig to turn slightly to its right then his Sako 7mm08 spoke. Boar then took off across the paddock at top speed and not knowing if the shot was good I tracked it in the scope and sent a shot away. It ran a further 15 m and then reared up on its back legs and toppled over.
Bh's shot took it behind the right front leg ( a quatering shot) and severed the heart from the lungs. Wont know if my shot connected until we skin it on the weekend, in the meantime its hanging in the chiller.
Tusks look worn down.............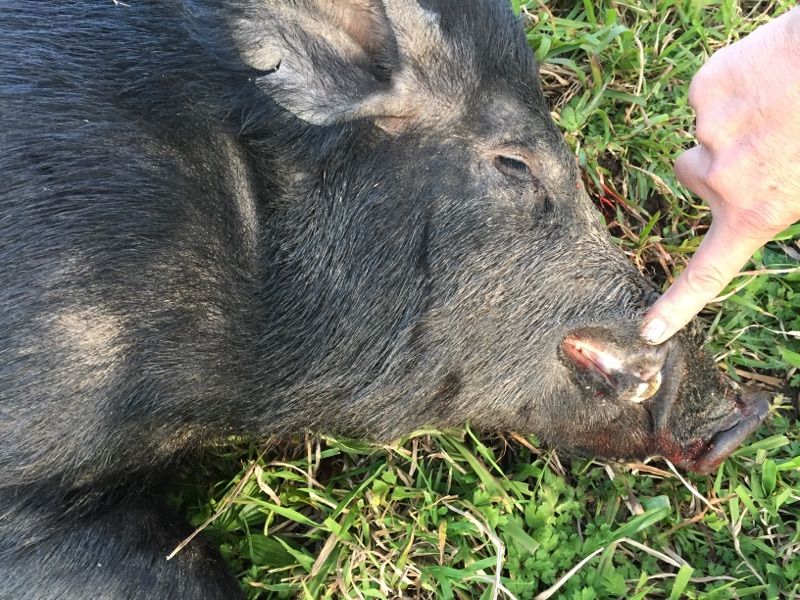 Had to drag it about 900m as I didnt take the quad up. Weighed it when we got back and it tipped the scales at 110lb.
Waited till it got dark then broke out the spotlights to see if we could score another one. Ran across a possum which decided to take refuge in a small tree.
Checked the background and waited till it had the tree trunk behind it before I sent a 120gr Sierra PSP from about 10m away. Blew it in half. Might have killed the tree as well.
During daylight we checked the property out. The hogs have probably damaged about 10-15% of the grass from what we could see. Will have to go back up on the weekend and possibly spend the night waiting for the rest to come out.
Edited to add: Both of us continue to be impressed with the 120gr Sierra PSP pushed by a reasonably hot load of varget. It shoots like a laser.
Still enjoying the trip of a lifetime and making the best of what I have.....