Home
›
Main Category
›
Hunting
Helped my buddies grandson get his first deer
Jeff in TX
Senior Member
Posts: 2,521
Senior Member
You may remember me talking about my buddy who's son left him to raise his 13 year old son. Bad situation but gma and grampa are doing a great job and he's a great kid. I put a thread up about Eric dove hunting for the first time this past fall. My wife was talking to gma before Thanksgiving and they said they could really use a break to get some shopping done and could they send Eric out to the ranch for a couple of days. i said you betcha, I'll help him get his first deer.
We spend this morning and early afternoon working around the ranch. At 3:30 we headed out the to new box blind I put in last month. This is the stand on my NW corner of my ranch. It usually has four to five does on it each evening. We were down to about five minute of shooting light left when I caught movement in the woods behind the feeder. A yearling came trotting in. Off to the left walked a big doe. I eased my .243 out the blind window. Eric got setup behind the rifle and I said just like we practiced on the range today.
He pulled the trigger and doe went down on one leg tried to run and folded five yards from where she was hit. He was aiming behind the front shoulder but as you can see hit the front shoulder. Great shot for his first deer. Talk about an excited younger. Grandma and Grandpa were just as excited.
And folks above anything else we do this weekend, I feel fantastic for him!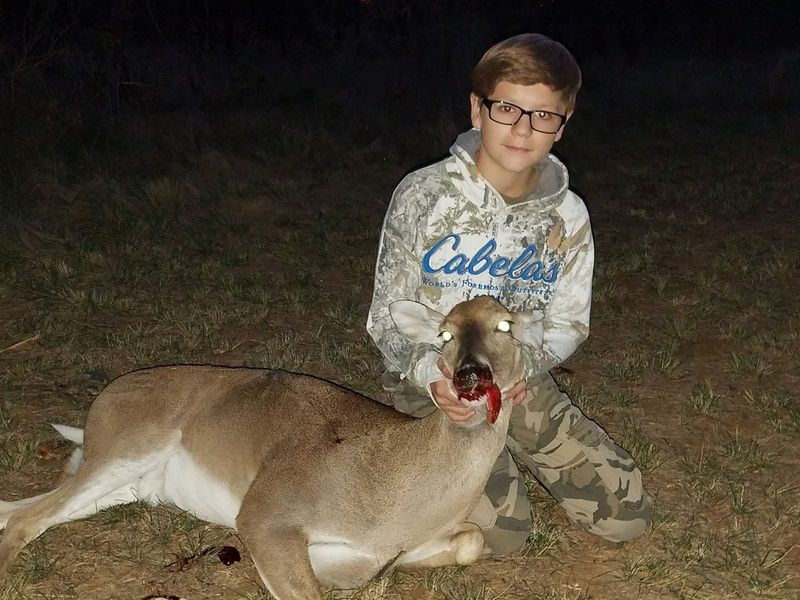 Distance is not an issue, but the wind can make it interesting!

John 3: 1-21