Home
›
Main Category
›
Clubhouse
Kilauea volcano in Hawaii erupting again
Getting nasty with the lava flows over there. Getting some earthquake activity, too.
https://www.washingtonpost.com/news/morning-mix/wp/2018/05/04/hawaiis-kilauea-volcano-finally-erupts-evacuations-underway-as-lava-threatens-communities/?noredirect=on&utm_term=.94abdf2f198a
A day after the most active volcano on the Big Island of Hawaii erupted, two major earthquakes rattled the island and fountains of lava gushed out of the ground in a subdivision, forcing residents to flee amid threats of fires and "extremely high levels of dangerous" sulfur dioxide gas.
The island shook at regular intervals, but especially around midday Friday: A 5.6 magnitude quake hit south of the volcano around 11:30 a.m. local time, followed about an hour later by a 6.9 magnitude one, according to the U.S. Geological Survey.
The Hawaii County Civil Defense Agency reported that the threat of a tsunami was low following the earthquakes.
Kilauea first erupted Thursday, sending white, billowing clouds of steam and volcanic ash into the sky and prompting emergency officials to order mandatory evacuations.
Authorities warned residents to stay out of the area Friday as molten rock shot high into the air from cracks in the ground in Leilani Estates, a subdivision in the Puna district, on the eastern side of the island.
The Hawaii County Civil Defense Agency said there was "active volcanic fountaining" in the neighborhood, meaning the lava was springing up from ground fractures; reports indicated it was shooting 80 to 100 feet into the sky. The Geological Survey said at least five fissure vents have opened in the subdivision so far — and that more outbreaks are likely to occur along the rift zone.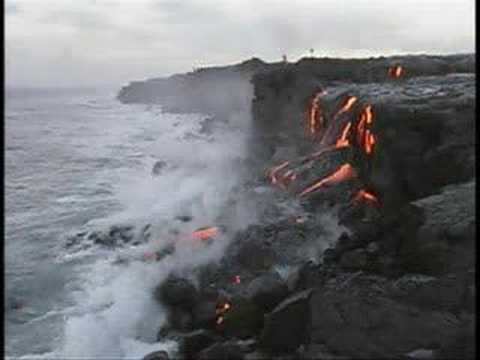 If a Liberal throws a hand grenade at you, pick it up, pull the pin, and throw it back at them.