Home
›
Main Category
›
Hunting
Turkey Tag-Out in Missouri
Missouri is one of those places that makes tagging out a little tough:
- The Season only runs from April 15 - May 5
- You can only shoot 1 bearded bird daily
- The hunting day ends at 1PM
- If you kill a bird the first week of the season, you can't shoot another until the second week of the season
BUT...owning land there is a definite advantage and allowed for planning around a tough situation.
Today, at 6:04 AM, I shot my second Missouri gobbler, ending my 2019 season there with one bird down on opening day and a second on closing day.  It also officially makes this the best turkey season I've ever had with 6 total birds in the freezer across 4 different states.
The Friday before this hunt, I took my 7 year-old son to hunt with me.  We roosted birds with me and stay in our camper for a morning hunt.  However, things got complicated when the birds decided to roost in a tree just over 100 yards from my blind.  Worse, my boy got his foot stuck in mud, and in his panic to free himself, he pulled his foot out of the boot and took a spill into said mud.  
With his warm clothes were now all soaked and filthy, and the birds simply too close to the blind to access with a small kid, I made the call to open the camper window and set up decoys right outside of the window so he could stay in his sleeping bag in the morning...and it *almost* worked out.  We had a pair of gobbler get with 44 yards, but I wanted them inside of 40 to feel good about the shot with hens hanging nearby too close for comfort.  No sense in risking an inadvertent kill, but it also cost us the only chance of the day.  
While my son had fun seeing birds come in close, the early wake-up tuckered him out.  So, I went out solo for closing day and roosted birds the night prior.  AGAIN, the birds roosted in a tree just 110 yards from the blind.  The large cottonwood to the left of my blind is where they were perched overnight - getting in there undetected was a tall task:
However, we had a new moon and a pitch black night. I made the call to sneak out all of my gear and decoys out with no headlamp and set up everything up exactly as I needed it in the blind the night prior.  If I spooked the birds at all, they would have hours to settle down.  It also cut the noise this morning down drastically 
It felt like a perfect, silent approach to the blind in the morning dark, but the proof as to whether I eluded the birds senses would be in where they flew down.  When they did, just 15 minutes into legal shooting time, the hens and Toms flew *directly* at my blind and landed just before the decoys at 28 yards!  Now it was just a matter of picking a gobbler and placing a shot.  I got on the heaviest bearded bird and let loose when he strutted right into my crosshairs.  The Benelli SBE3 loaded with #6 Winchester Long Beard XR 3.5" shells hammered him and he was down for the count.
The Tom ended up have a 9.5" double beard and the longer spur measured 1+1/4" (shorter was 1+1/8").  I posted the hunt footage for your viewing pleasure: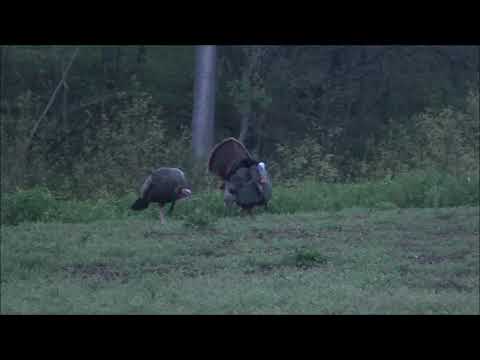 https://www.youtube.com/watch?v=Jz7w7QnreCQ&
I wondered why his beard looked so thick.  Well, it turns out that he had two of them.
Not a bad way to close out the season.  I still have one more tag in Nebraska, but I'm not sure if I have the energy to go for a 7th bird.  Regardless, this has been one heck of a fine season.
Accuracy: because white space between bullet holes drives me insane.