Home
›
Main Category
›
Hunting
My first recovered Barnes bullets. Link to video from my hunting trip
TurdusMerula
Posts: 362
Member

Couple of weeks ago on I shot a buck and as I butchered it, I recovered my first ttsx's after tens of kills with these.
I shot the first shot into it's chest from around 150 yards. It had moved it's head and before it entered the chest it went through the deer's nose and lower jaw. Then it entered the chest.
Deer took a backflip and kicked few times and laid still after that. That wasn't the whole story though. While I was picking up my stuff it had stood up and was slowly walking away from me while I was packing my stuff from my shooting post (ditch by the field, remember the video?) It was already at 220 yards, walking slowly away when I shot it for the second time. It was very dark and all I could see was it's rear end and a bit of shoulder. In the darkness I put my scope's cross hair's red dot in the point where I saw his b**t and shoulder unite. Super quartering shot. I heard the bullet slamming in and game was over after a 20 yards "run"
When I was butchering the deer I found my bullets. Side by side just outside the rib gage, under the shoulder blade. Ther other bullet had made three small dings on the other bullet's side. You can see one in the picture. Hopefully.
Funny coincident that they hit each other when I shot the deer for the second time. Power was almost out at that point though. Seventh deer for this season and first on year 2020.
Here's the video from the trip. Probably as boring as watching the paint dry but someone might find it interesting to see the landscape from my home to my hunting area one hour drive away from our home.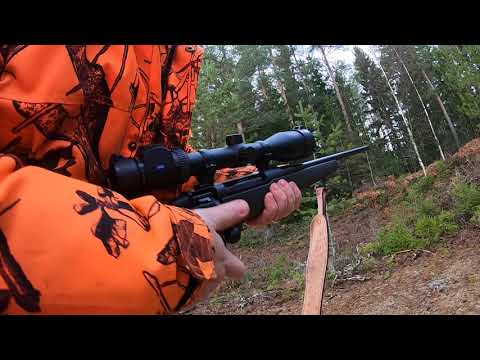 https://www.youtube.com/watch?v=l_ECXsegoq4

To see a World in a Grain of Sand And a Heaven in a Wild Flower
Hold Infinity in the palm of your hand And Eternity in an hour
-William Blake-