Home
›
Main Category
›
General Firearms
Workin' Up Some .44 Magnum Loads
black mamba
Posts: 158
Member
I showed pics of my new (used) S&W 629-5 about a month ago, but my eyes ain't what they used to be, so I put a Millett red dot sight on it. Mounting the Jack Weigand base was easy and the sight went on beautifully.
NOW I CAN AIM AGAIN !!
Here she is with the target from this morning's range session.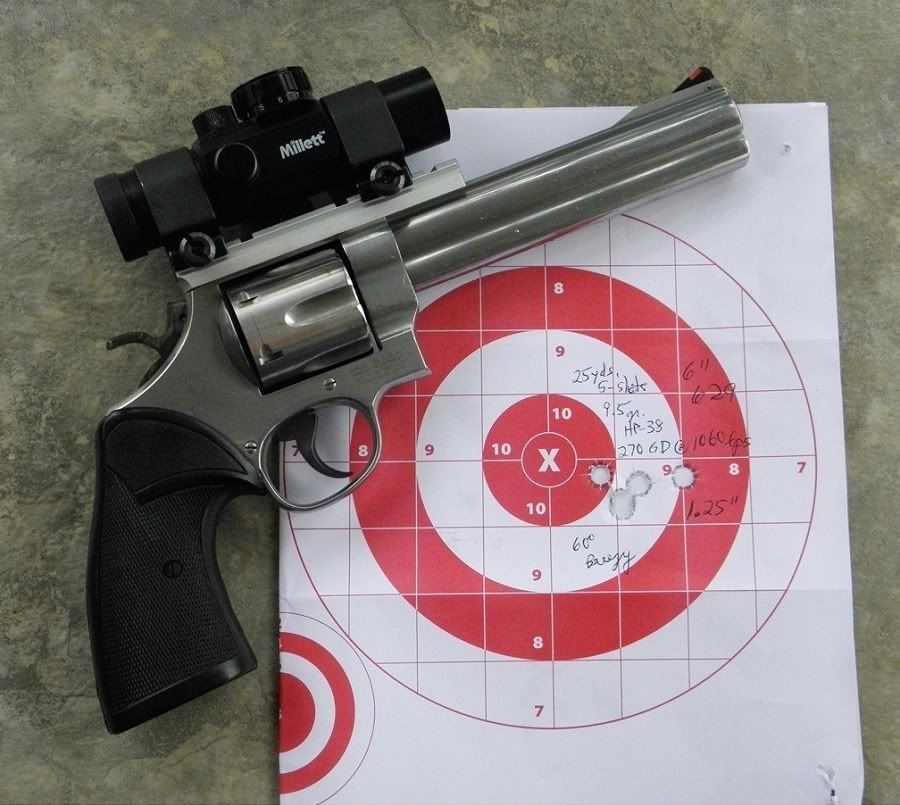 This is just the second load I've tried for it, 9.0 grains of HP-38 being the first, but slightly less accurate. Average of 7 shots with the Chrony at 12 feet was 1049, so I called it 1060 fps at the muzzle, with the 270 grain Speer Gold Dot JSP. WW Super once-fired brass and WLP primers @ 1.605" OAL with a good crimp in the groove. I believe the horizontal stringing is still human error. I think this would shoot 5/8" from a better rest, or with better eyes. Recoil is a pussycat, just a good puff.
Next is my T/C Encore with Bullberry 10" heavy .44 mag barrel and 2x Leupold LER scope. The chambering on this pistol is so tight that .430 bullets will not chamber, thus the Nosler (.429") 300 grain JHP is my bullet of choice. I need to try some Sierra's as well, as they are .4295" in diameter.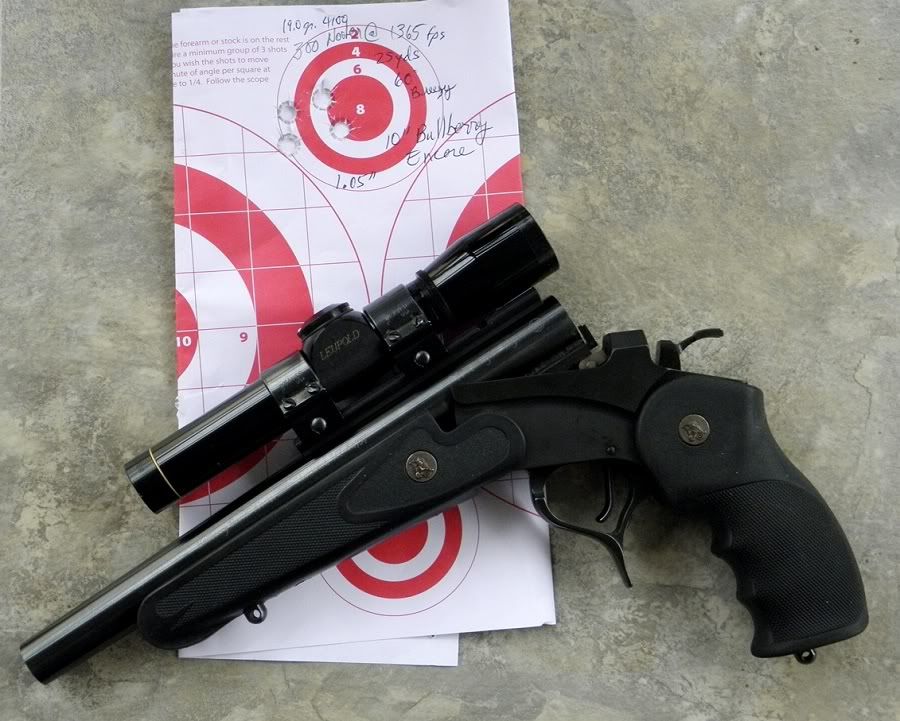 I worked this load up to 19.5 grains of Accurate 4100 powder with CCI-350 magnum primers, but then backed off to 19.0 grains and the standard CCI-300 large pistol primer. These loads may be over book max, but being a single shot pistol, I can load them long. COAL for these loads is 1.718", which is still .02" off the lands, and gives a much larger powder space in the case. Average of 7 shots over the Chrony (over two separate sessions) was 1353 fps @ 12 feet, so I called it 1365 fps at the muzzle. A nice 1" group at a breezy 25 yds, and again, the pistol is more accurate than I am.
It was an excellent day at the range!