Home
›
Main Category
›
Hunting
It pays to get up early when duck hunting.
This weekend is a special 2 day duck season for our Paradise duck. ( These are what I call 'goofy' ducks, you might remember a couple of years ago my post about using my rubber boots as decoys)
Plans were made, dekes were gathered, guns were checked, and I arrived at Bloodhounds place right on the dot of 5am.
I saw a pile of gear by his back door so started loading it in the Jeep. My cellphone rang and I get a very sarcastic Bloodhound telling me to wake up and get moving. ( He was expecting me to still be asleep....that boy has no faith I tell you). My reply (edited) was something along the lines of " Get your fat ......... ..... out here, I' ve loaded your gear and am waiting!!!!"
45 minutes later we arrived at 'The Place'. Wind was SW about 25knots. One of us knew that it was going to be cold, the other one was wearing shorts and T shirt. Bike gets loaded in the dark and we rode the 2 k's to where I wanted to set up. It was still dark when we had the decoys out and we sat for 20mins or so until the first faint glimmerings of light showed up over the hills. Thats when the one who was wearing shorts decided to change into his polarfleece trousers and get his heavy duty coat on. (You can always tell my hunting mates, the trouble is you cant tell them anything.)
We could hear birds calling 2 paddocks over but decided to wait till we had more light before making the call to move. After watching the early dawn flights we grabbed the decoys and moved over to where the birds were, putting them off the paddock without firing a shot. Reset the decoys and about 15 mins later the ducks started moving back in.
After we had about 11 birds down ( limit was 10 each per day for the special 2 day season) we saw a flight of Canada geese take off from way out in the harbour and while it looked like they would pass directly overhead at first, they did a big circle around us and landed 4 paddocks away.
(Canada geese were taken off the 'Game Schedule' last year and are now classified as pests with open season, no limits and you can hunt them with anything from .22's through to shotguns and centrefire rifles.)
After watching about 160 follow the same route I said to BH 'Lets go and ambush them'. After a sprint across 2 paddocks we lined up on their flightpath and waited till the next group of 5 came over. They passed out of range but gave me a better indication of where to stand so I moved.
I suddenly realised that I still had my skeet choke in the 1187 but when the next 4 birds flew directly over my head I knew they would be within range so I stood and 'Bang'..... heard the pellets hit the body, saw the bird rock....'Bang' again the same result. I figured that my lead was too little so gave it a bit more and the bird I had 'chosen' crumpled its neck and fell stone dead!! Range was about 35-40yds and I was loading 1 1/8oz of lead #2 in a 2 3/4" shell. ( It took me three times as long to type the 1st 2 words of this paragraph as it did to take the three shots!)
The next 3 came over so I picked the 'tail end Charlie' and at the first shot it crumpled stone dead.
I yelled at BH to move to my position and he made it just before the next 4 arrived. We both took a bird each and then the flight stopped.
Bout time for a pic...( These birds are 'Giant Canada's)
While we were 'chasing geese' I could see ducks landing in our decoys so we headed back to fill our limits. Here is a pic of the setup.....can you spot the live one?
We ended up with our limit of ducks and 4 Canada's.
Some of you may remember this farm from my previous pics and in particular the 'Artwork' on a neighbouring property.
To refresh your memory here is another pic with the camera set on its highest zoom.......
Well, on the hill to the left of the giant 'trumpet' they are erecting something else...I havent figured out what it is yet but here is a pic.....
Dont you hate it when the neighbours look over the fence and gossip about whats happening......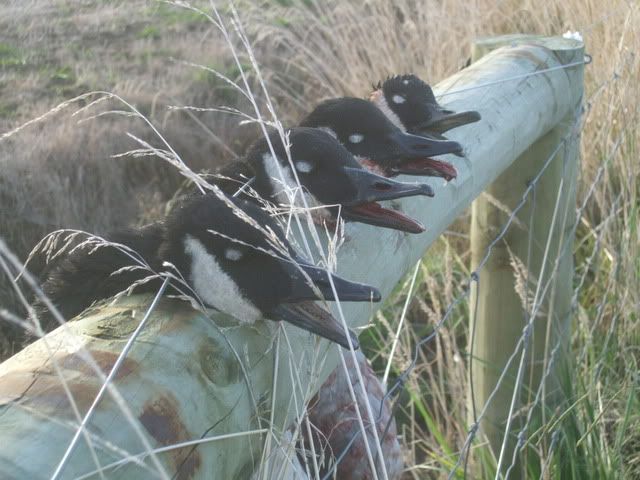 We gathered the gear and headed up to the farm offal pit to breast them out. Everytime I go to this place I always stop at the top of the hill cos the view over the farm and out to the Kaipara harbour is impressive......so I will share it with you. I love this place.
We were home by 1130am with all the birds dressed and made plans to head back up there tomorrow......at 4 am, as I will be taking the geese decoys and want to be in position with everything set up before daylight.
BH has some video of the shooting so I will probably post that up tomorrow night when I get back.
As the title says.....'It pays to get up early when Duck Hunting'...........
( Apologies for the length of the story)
Still enjoying the trip of a lifetime and making the best of what I have.....