Home
›
Main Category
›
Clubhouse
Completed a personal tradition again this weekend: Bataan Memorial Death March
shotgunshooter3
Senior Member
Posts: 5,970
Senior Member
Hey all, some of you may remember that since I was 16 years old I try to annual attend the Bataan Memorial Death March at White Sands Missile Range, NM (
www.bataanmarch.com
). It's a marathon (26.2 miles) or pseudo half-marathon (15 miles) designed as an event to commemorate those who suffered through the actual Bataan Death March in WWII.
They offer two different styles: Civilian and Military (done in uniform), and two categories: Light and Heavy (No pack, 35lbs pack). I have participated in Military Light, Civilian Light, and Military Heavy.
These past two years since I don't live in NM anymore, it's been more difficult to make it to the event, but both years I've managed to recruit a few people and make the trip. This year I had some reservations about doing it again: Fighting shin splints, plus a busy school schedule had resulted in literally no training to prepare. Normally this wouldn't be a big deal, but my overall physical condition is the worst it's been in a few years. However, I still pulled the trigger and signed up for Military Heavy.
Fortunately, I finished, but by the skin of my teeth. However, that's all it takes for this event. I'm as proud as ever to maintain my personal tradition of participation, and to give my small part of showing thanks for the Greatest Generation. This may be my last year for awhile, with Flight School looming near, but I won't forget the event and once I can I will be back. It has always been an event that forced me to crush personal walls and challenged what I really thought was possible.
Enough of tooting my own horn, I just wanted to share.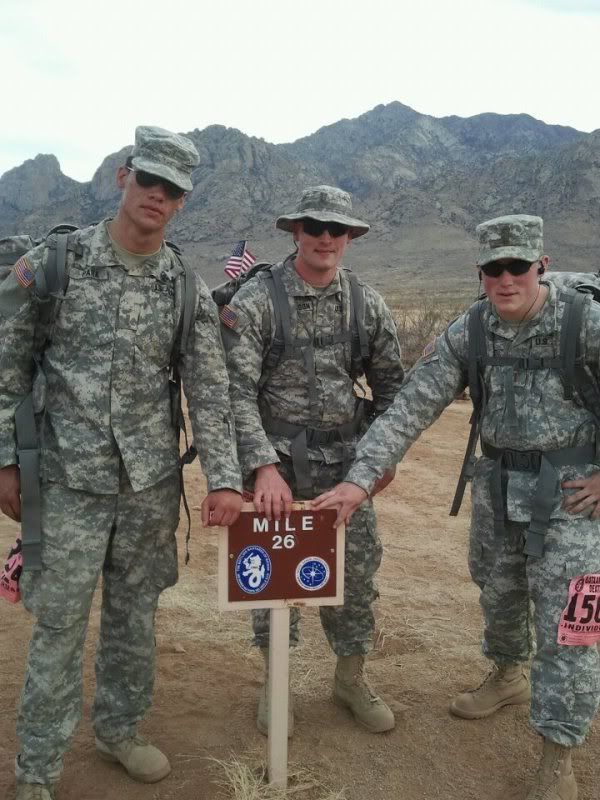 Myself (the one Aviator AKA pogue) and the two LT's (Infantry and Light Cavalry) that I finished the march with (I'm the chubby one on the right).
- I am a rifleman with a poorly chosen screen name. -
"
Slow is smooth, smooth is fast
, and speed is the economy of motion" - Scott Jedlinski