Home
›
Main Category
›
Personal Defense
Load out vest gets an update.
SirGeorgeKillian
Senior Member
Posts: 5,458
Senior Member
A while back I was given a (man I hate to use this term) "tactical vest." Not something I could see myself buying, but for free I said sure. I had a few MOLLE accessories, so I threw something together to get the feel for it. It didn't give me a warm fuzzy feeling, so it sat in my garage for a while. I never made it as far as weaving the pieces together correctly as I was never able to get it "right" for me.....
Well, today I got a call from a friend who had a holster for an Beretta 92 that he no longer had a gun for. I had bought my pops a 92 for his 50th birthday, and I figured he could use another holster. When I got there, he had a few things he thought I would like including a sweet backpack. Called it even for a case of beer, and I was off with my plunder. There was a Serpa holster for dad's Beretta, and a few other goodies including a thigh rig for a full sized pistol (universal fit, lots and lots of velcro. Very well made at that) I gave dad his holster, and started figuring out a use for this otherwise worthless thigh rig. Well, there was MOLLE all over it, so it made me think to revisit the vest idea. Originally I entertained the idea of a bedside companion that I could use with any of my bedside candidates. Here is what I started with, unorganized chaos that had absolutely no place in the HD role. In fact, it was damn near going on craigslist.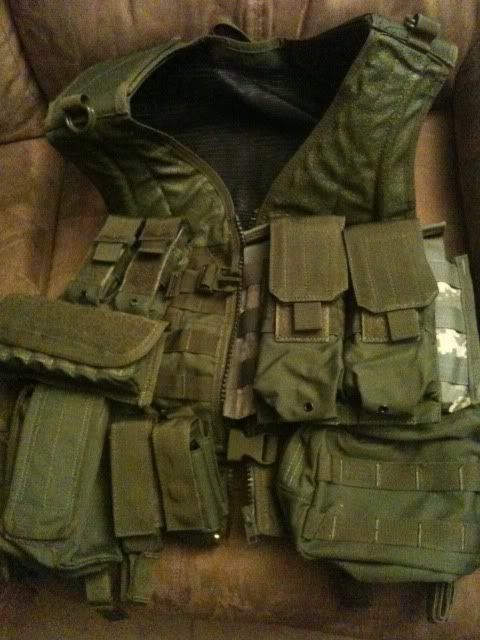 After a little tinkering, lots of cursing, and a little luck, I got the holster configured exactly the way I wanted it. I gotta admit, the thing is almost to versatile for its own good. Able to be adapted to right or left hand use, and handle a pretty wide range of pistol sizes. the thigh strap was the first thing to go. I then put my focus on the vest, stripping it and starting from scratch. Some thought went into layout, and several trial and errors getting placement on the vest where I wanted it. I tried to keep weight down, but still wanted to keep versatility. My scope was something that could be used for bumps in the night, but could also be used for end of the world apocalypse, zombie epidemic, and/or a real life red dawn. I found a comfortable median, and for the time being, I think I am close to happy. The fact that it now holsters a gun makes it perfect as the ability to have a quick backup when otherwise in my pajamas. Not that I plan on needing more than a long gun (rather that be my AR or shotgun) but it does give me a quick available option should there be a not so easily fixable problem. With this current setup, I have at my disposal a Para Ordnance P13 with 4 spare mags (60 rounds of .45acp), 150 rounds of 223, and 12 OO buckshot shells. Without further ado, here is my current setup:
Here is what I learned:
1. In a hurry, the zipper is worthless. There are two plastic clips that are quick and easy, and do the job good enough.
2. There is some added bulk, I need to train with this. I have a small house, lots of close quarters, but with my profession, I am used being dressed in bulky attire.
3. The weight isn't as bad as I thought. If I was in this thing all day, it would take a toll, but having the bulk of the weight close, it isn't that bad. Once again, this is coming from a person who is used to working in hot conditions with heavy bulky attire.
4. With MOLLE stuff, needle nose are your friends.
5. Don't completely weave ANYTHING till you are almost fairly certain it is where you want it.
I have a few things left, I am thinking about adding to the rear. Mostly medical equipment, once again, this kit isn't specifically for HD. Plus, after the threat is neutralized there is always the chance I might need that kind of stuff for myself or God forbid my family. Having it close by isn't a bad thing. If I do this, it will be limited, mostly stuff good for plugging leaky holes. Something I will try, might like it, or might stay minimalist. That is what is so sweet about this stuff. It is kinda like legos. All in all, I think it is a good investment seeing how I don't have anything tied up in the "software" side of it. Sorry for the long read, guess I am more bored than I thought. Any suggestions are more than welcome!
Unless life also hands you water and sugar, your lemonade is gonna suck!
I'm in love with a Glock