Home
›
Main Category
›
General Firearms
Range Report! STI Trojan 1911
shotgunshooter3
Senior Member
Global Nomad
Posts: 6,071
Senior Member
Well folks, I had some time to kill on Friday so I decided to drag my STI Trojan 9mm 1911 out to the range. I put about 100 rounds through it and it shoots sweeter than ever. I think it is starting to settle in, as it isn't shooting as low as it was. I want to put about another 300 rounds through it before I go to replacing parts (front sight). Plus I am yet to try heavier ammo with it.
The gun:
Field stripped. The guide rod is kind of annoying, but it shoots well so I'm not going to mess with it: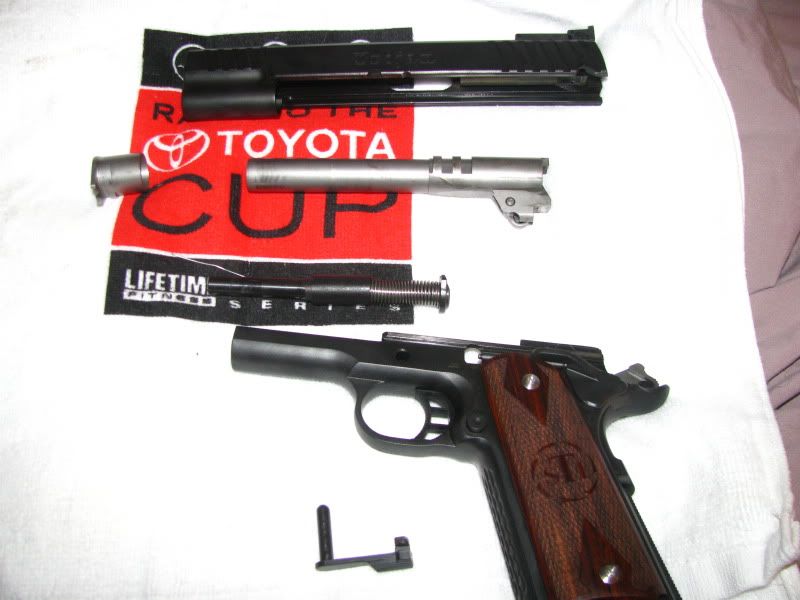 I shot from 25 yards down to 10, with most being at 15. All of this was offhand, slow fire. The more I shoot this pistol the more I like it! I don't think it will ever replace the K/L frame revolver in my heart, but it definitely will always have a place in my safe! Here is the final 5 shot group I did at 15 yards. Not as good as I'd like, but a good start. Ammo was the bulk pack 115gr Remington stuff
All in all I'm really impressed with the gun. It locks up tight as a bank vault and the ONLY failure to function I've had in about 250 rounds is one failure to lock the slide back, which I attribute to the magazine (Tripp Custom, honestly they don't work that great, at least not the 9mm design). For the price range this gun is in I would highly suggest it!
- I am a rifleman with a poorly chosen screen name. -
"
Slow is smooth, smooth is fast
, and speed is the economy of motion" - Scott Jedlinski