Home
›
Main Category
›
Personal Defense
LCP range report with a zombie
Mr.F
Posts: 89
Member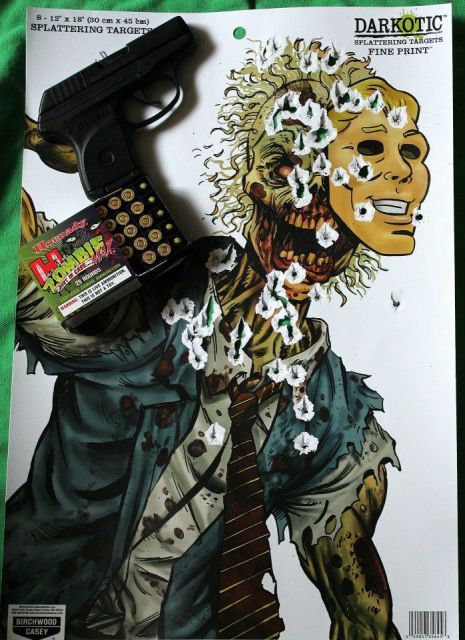 I put 100 rounds of Speer Lawman ammo through the new Ruger LCP & yes my hand was sore! This particular target was 15 feet away or so . The head shots were with 2 hands the chest with one . First few shots I thought it was going to pop out of my hand but quickly figured out how to keep a hold on it & do decent follow up shots . I saw some rubber grip sleeves online , maybe that would help ? I noticed I was shooting a little to the right with this gun , I don't with any others . I hadn't been shooting for awhile & this is the smallest thing I have ever shot so I was expecting to do much worse .
I did the nail polish on the front sight trick Al suggested - turns out we had glow in the dark so now it has night sights ooooh ! This thing operated just right & is as easy to carry as a wallet & keys so I am more than happy with it but I am still going for the SKS when the Zombies come .
Jermanator : You might talk about Tauruses around your wife, but that just doesn't fly in my house.