Home
›
Main Category
›
Personal Defense
Mindset - Living Through It (graphic video attached)
JasonMPD
Senior Member
Posts: 6,577
Senior Member
I am doing a presentation for some co-workers next week and it got me thinking. Self-defense situations are fundamentally no different for LEO or citizens when it comes to having to use deadly force: many involve an assailant with a firearm or knife. The mindset you have prior to the encounter and the mindset you exert during the incident will vastly direct the outcome in your or the bad guy's favor.
I am not going in to detail (...because the presentation is a few hours long), but the general concept around encountering a potentially mortal situation if the response dictates deadly force is the
Violence of Action
. "Violence" is not generally a lawyer-friendly word. But there is nothing negotiable about a life-or-death situation and using a level of violence equal or greater than the threat presented is the only way you will rise to the top. There is nothing defensive about defending yourself.
The video below is openly available on YouTube and is not some unauthorized video footage. It illustrates officers (2) using an overwhelming violence of action to overcome and defeat a very real mortal threat. This sort of mindset is the underlying purpose of my presentation for my co-workers, but it applies to ANYONE who may have to defend their lives or the lives of others.
DISCLAIMER:
This video is graphic/violent in nature and depicts officers using deadly force to defend themselves. There are
no
bloody or gory images and the suspect is
not
shown as injured or deceased in the video.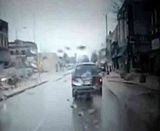 "There are three kinds of men. The one that learns by reading. The few who learn by observation. The rest of them have to pee on the electric fence for themselves." – Will Rogers