Home
›
Main Category
›
Hunting
Blooded Another Rifle Today
snake284-1
Senior Member
Posts: 2,500
Senior Member
I shot a doe in the Sendero at my lease today at about 200 yards from the blind. My grandson was with me. Here's some pics. Note how we skinned it.
As you can see, the camera was an after thought as you can see by the skinned strip on the neck. As I was getting it prepared to pull it off with the car, my grandson reminded me of taking some pics.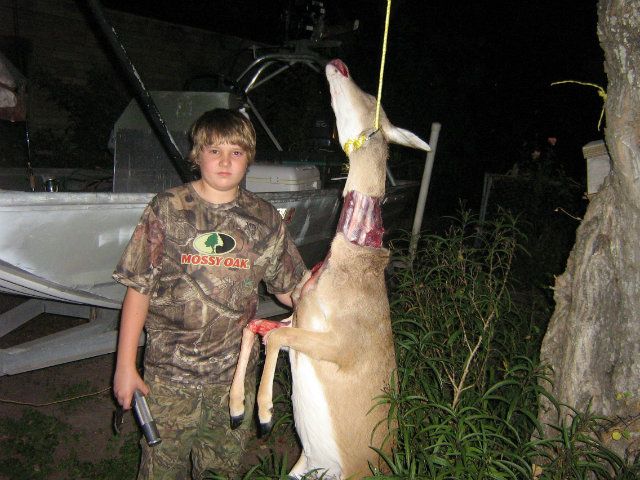 After I cut around the neck and down to the chest, I cut the skin from the front legs and pulled it down just below them. Then I put a golf ball under the skin and tied a rope around it and hooked the other end to the trailer hitch on my wife's truck bumper. I used my Suburban to hoist the deer up and hold it while preparing it to skin and also to keep it hanging while gutting and quartering it and I used my wife's GMC Canyon to pull the skin off with the rope tied around the golf ball and to the Canyon's trailer hitch. The skin will come off much easier pulling it from the head-neck down to it's back legs than the way most people do it from the back legs down to the head-neck. And the use of a vehicle to pull it off is even easier. I used the two vehicles because I didn't have much to tie the deer off after I had it hanging. I need to rig me up a proper boom in the back yard if I keep killing deer.
Pic of it skinned.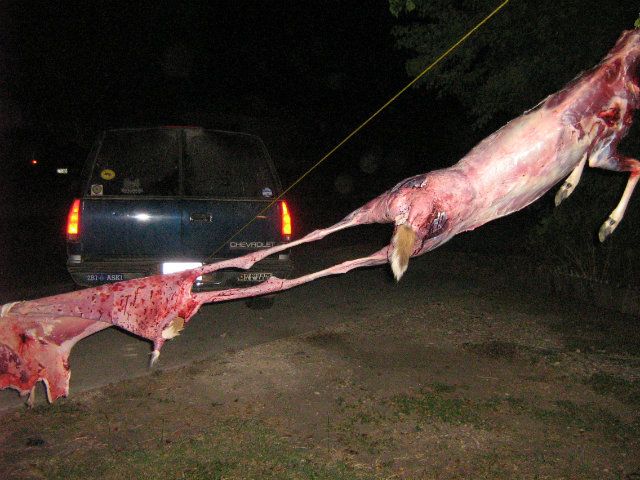 I'm Just a Radical Right Wing Nutt Job, Trying to Help Save My Country!