Home
›
Main Category
›
General Firearms
Rescued one from layaway! New .22
shotgunshooter3
Senior Member
Posts: 5,970
Senior Member
I posted awhile back that I had another project in the works, and I was finally able to rescue it from layaway. So, without further ado, let me introduce you to my Ruger 22/45 Mark III: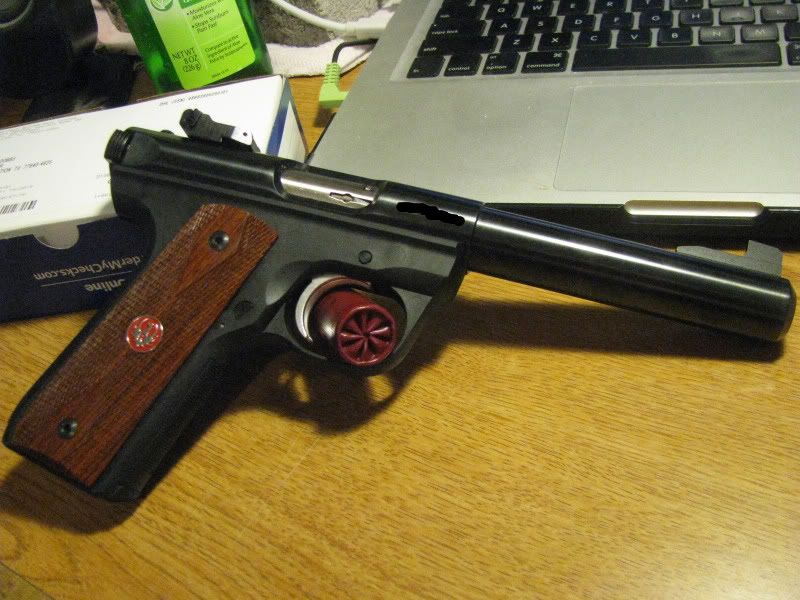 I bought this gun specifically for training and plinking, I can't afford to feed my STI all the time. At $13 for a 500 round brick v. $15 for a 50 round box of 9mm. I could've got the one without the wood panels for about $30 less, but this one felt better and with minor modification thicker 1911 panels will fit. Fit and finish is fine for what it is. The bluing is nice and even, and even with the polymer frame it weighs in at 33 oz. It came with a mount for a red dot, but I doubt I'll ever use it.
I know the Mark III rendition of the Ruger .22 pistol took/takes a lot of flak from people here, and I agree (no Mark II's available locally), but I have to hand it to Ruger: If you've gotta put the lawyer features on a pistol, they did it right. The magazine disconnect is easily removed (I plan to do just that, along with a Volquartsen trigger unit), and the internal lock simply locks the safety in the "ON" position. They were even considerate enough to hide that paragraph warning that Ruger insists on putting on all their guns under the barrel (I didn't even notice it until I got it out to take pictures). The loaded chamber indicator is odd, but it doesn't really bother me like I thought it would.
Shooting wise, it does great. I took it straight out to 15 yards and it shot a little high but besides that did great! The trigger is no STI, but for a $300 .22 it does fine. It is a tad bit finicky with the Winchester Wildcat ammo I was using, I had some failures to eject and one stovepipe. I attribute this to the el cheapo ammo, and the fact that I didn't give the gun a good cleaning before I shot it (still had some of the factory goo in it). I plan to give it a good cleaning (little hesitant to field strip it) and start experimenting with ammo to see what it likes. Here is the final group I fired at 15 yards, offhand:
All in all I really like the gun, but what's not to like about a .22 pistol! I was a little disappointed to get a few function issues on the first trip out (fired 146 rounds, the other 4 would not fire. Cheap ammo), but again I think this was the ammo and my lack of cleaning out the gun beforehand. This will serve duty for cheap practice and when I'm teaching other people to shoot, and for these duties it will do great!
Here is a final pic of the Ruger with it's big sibling, my STI Trojan 9mm:
- I am a rifleman with a poorly chosen screen name. -
"
Slow is smooth, smooth is fast
, and speed is the economy of motion" - Scott Jedlinski