Home
›
Main Category
›
Hunting
Pronghorn opening weekend!
mosseybuck
Member
Posts: 464
Member
Jerrybobco, Linefinder and I have made a couple of successful goat hunts together but we didn't get our plans worked out in time for this year so I went by myself. Jerry gave the ranch owner's ph. # to me and I called to verify it would be ok for me to come and hunt. He and his son are really nice guys and they invited me to come on. They really act like we do them a favor by thinning the herd for them.
The weather wasn't so inviting! A cold front came through dropping temps to freezing and the wind was wicked gusting 30-40 Friday night. It felt like 50-60 in my truck camp topper! To make it worse I grabbed the wrong sleeping bag, summer version, and my air mattress sprung a leak! I got a fitful night of sleep but awoke before daybreak Saturday with much milder wind. The past two times I've hunted on this opening weekend, the weather was much better.
Regardless of where I am, I have a morning routine, that starts with a cup of coffee and a few minutes "reading" to think the day over.:tooth: So I'm sitting there on my porta in my "camper" under some cottonwoods in the middle of a 27,000 acre ranch and I hear someone yell, "sorry to bother you, can you come pull us out of a mud-hole?" Give me a minute, says I, I'll be right out! So I wrapped it up, suited up and drove this lad back to their muddy Ram buried in a mud hole. My old F-250 V-10 likes nothing better than bragging rights to making an easy extraction of someone else's muddy truck!
Other than that the day started off looking pretty good, saw several small groups in the distance with a few bucks mixed in. Later on I tried an hour and a half stalk across about a mile of flat, open prairie, trying to look like a sage brush and close the distance on a herd with a couple of shooter bucks. They weren't very co-operative and kept the distance way beyond range of anything less than a Ma deuce! I changed to another location later afternoon and set up near a couple of stock ponds. Shortly before sunset two really nice bucks came around a little rise about 500 yards away. I tried to keep the pond berm between me and them as I closed the distance but they went onto neighboring ranch and closed the door on me. The wind had picked up again and it would have been a desperation shot when I first spotted them. Ironically, if I had sat in the truck awhile longer to get out of the wind, They would have passed by me about 150-200 yds. Oh well, it was almost dark by then.
So back to my chalet in the cottonwoods for a terrible night on a deflated air mattress trying to make a plan for Sunday morning. At least it had warmed up to mid thrties and wind slacked after dark. After I ate supper I went out to star gaze for awhile and was treated to a meteorite that I promptly made a wish on, for a nice buck in the a.m.
Sunday just before sunrise I, well you know the routine, then I fixed some oatmeal and more coffee. I had decided to go back where I saw the larger bucks last evening and I opened the door and stepped down. I looked around before I moved and there were two bucks standing about 50 yds to my right in the edge of some brush! And they were looking at me or the camper door. I froze, and reached back in for my binocs, which were in the cab of the truck!! I slowly backed around to the other side of the truck and sneaked to the cab. The door was locked! and the keys were in the camper! This was beginning to look like a Chaplin movie!
To shorten the tale, I managed to sneak back, get keys, inch slowly along same side of truck that they were on, and opened cab door without them bolting! They looked up a few times but fed along pretty casually. I think the rising sun was behind me and making it difficult for them to determine what I was. I got the window rolled down with me hiding behind door and put the glass on them. They were both bucks, not huge, but shooters. I picked the larger one and got my rifle out of the cab, rested it on the door, and POW, another one bites the dust!
They had moved out to almost 90 yds but it was a really comfortable shot. He dropped right where he stood and suffered no more than a heartbeat. I stepped off the distance and paid homage to him before dragging him to the "hanging tree" that I had slept under for the past couple of nights. I got him cleaned up and iced down and thanked him again for giving me a great hunt, and for not making me spend another night on that darned flat air mattress!
He was a good looking buck with shorter horns than my last one but still gave me a thrill to be able to have a successful hunt. After packing up, I stopped by the son's ranch house and thanked him again for permission to hunt. And he thanked me again for coming, I really think they don't like goats! Super nice folks. And thanks again to Jerrybobco for the original invite and making all of these hunts possible.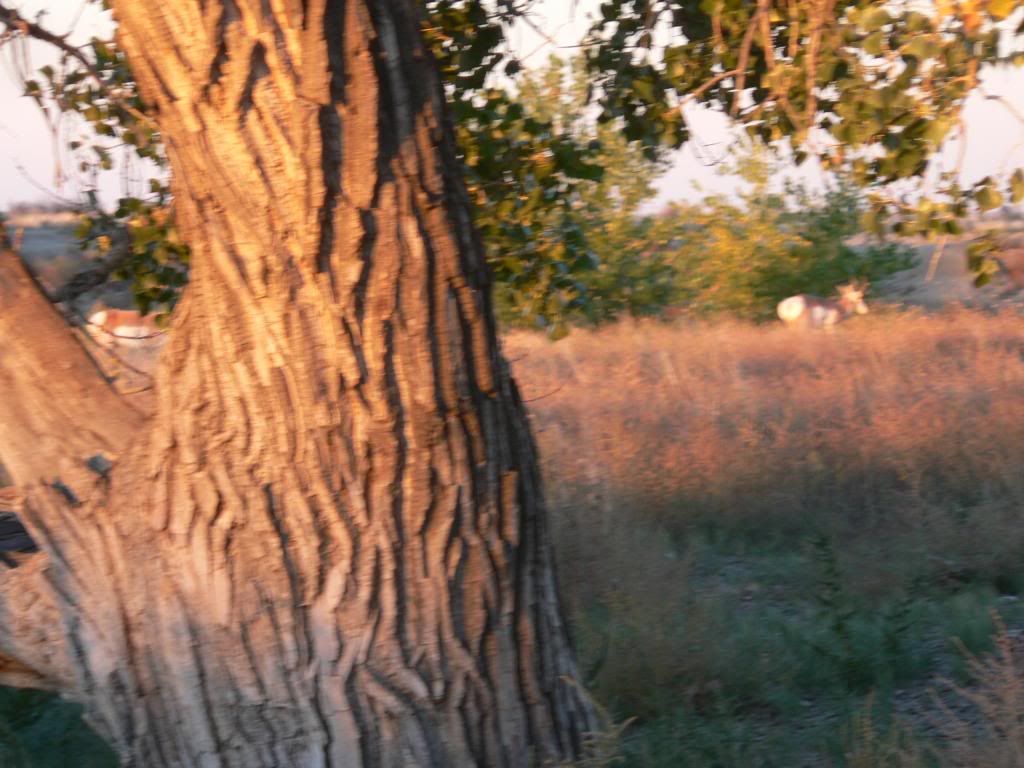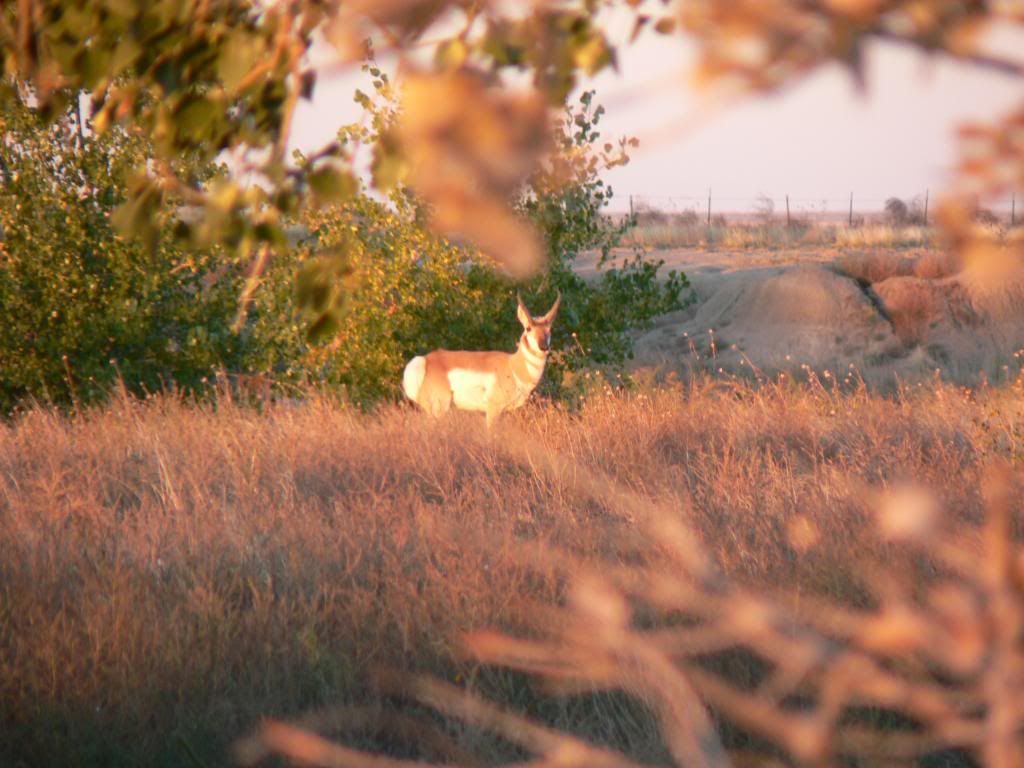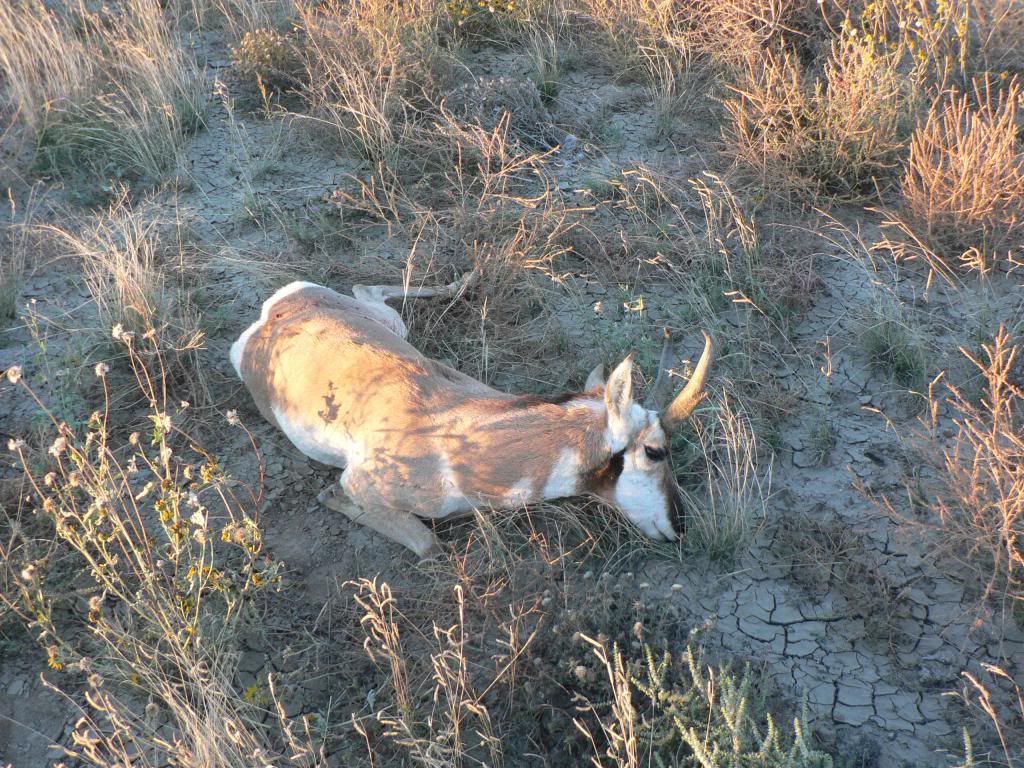 USMC '59-'65, NRA Lifer, Tennessee Squire