Home
›
Main Category
›
Hunting
.300 Remington Ultra Mag - Field Report
Friday was clear and cold. Well, cold for where I'm at. Which meant it was in the 30s and the wind was blowing. So, I called up the Foreman who'd let me cull a doe a couple weeks ago and asked if he needed anymore taken. "Come on", he said. He took me to a huge food plot about 1,000 yards wide and set me in a pop up tent blind staked in a corner of the plot.
I had wanted to bring the kids again, but they had balked at the cold temps and high wind. A solo hunt it would be. The wind was keeping the deer down, so I passed the time ranging objects and aiming at the Longhorns.
Around 5:00, the first deer came out. Turned out to be two big bucks on the other side of the plot...............989 yards away!
That's what they look like through a 10x scope at almost 1,000 yards away. Unfortunately, this was a doe cull and they were safe. So, I watched them make scrapes and rubs along the tree line. Then, beat the crap out of each other in a pretty serious fight. Right before dark, a big doe and two yearlings came out from my left. I'd brought the Ruger .44 Mag with me as well in case of a close shot. Well, they came out at about 40 yards. I was getting the Ruger up when they trotted across in front of me and started moving out into the field to my left. As they increased the distance, I swapped back to the .300 RUM and watched them through the scope. I was hoping a solo doe would come out. But, the light was fading and it was time to make a decision. Tracking the big doe, I waited for her to turn broadside............to no avail. She was just moving away into the field. Then, she took a step to her left and exposed her side just slightly. "BOOM!!!!"............and I ain't kidding! If you've never fired a big .300 Remington Ultra Mag with a big Holland radial Brake in a TINY pop up tent blind............picture this...............Take a small paper sack........about barf bag size. Kind of smoosh it down a little and place it to your lips. Sort of like you are hyperventilating. Now, take a deeeeeeep breath and FORCEFULLY exhale into the bag!!!! That's about what that tent blind looked like when that beast went off inside. You'd have thought I fired a BP rifle with all the smoke filling that tent. Wafting out the windows like a Hippie in his VW Microbus. Seriously.........I started laughing. It was THAT awesome!! Anyway..............the recoil from the rifle off the BOG-Pod took me off target and I lost sight of the doe. I've no idea her reaction on impact, but I relocated her just in time to see her bite the dirt after about a 40 yard run. Here is a breakdown of my field of view....................Bucks fighting at 989 yards in the middle at the BLUE ARROW....................doe and yearlings came out at the right at the GREEN ARROW................crossed in front of me and I shot her at the RED AWWOR.
After laughing at the happenings inside the tent, I packed up the gear and walked over to the doe.
That's how she landed with the exit side up and here she is with the implement of destruction.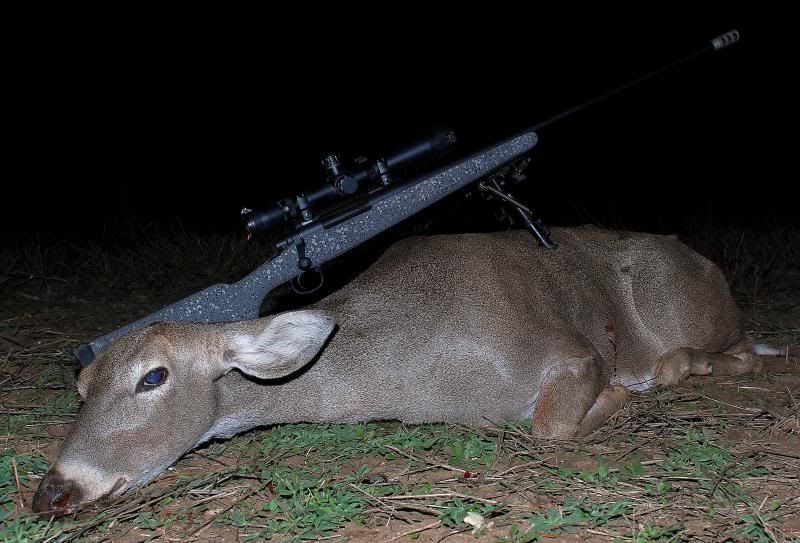 I loaded her up and took her to the lodge for weighing and aging and Management Tagging. To which the results were.........107 pounds live weight, about 4 1/2 years old, and still no personal tags used. The autopsy is next.
"To Hell with efficiency, it's performance we want!" - Elmer Keith