Home
›
Main Category
›
Hunting
My 60th birthday bash and the ladies that attended.............
...............and before you say that this should be in clubhouse, I really think this is the appropriate place...............:tooth:
Its not often that one turns 60........obviously, but I am not normally one that celebrates birthdays. I decided that today was going to be one where I did what I wanted to instead of doing what everyone else told me to do.
With that in mind, I turned off my cellphone, did a few chores around the place and then loaded my pack, grabbed the Sako 222 ( suppressed), a handful of reloads and headed up to Bloodhounds place to stalk a few animals and perhaps, if the hunting gods smiled down on me, get a spiker for the freezer.
Got to his farm block about midday, checked the water supply for the cattle troughs in the paddocks, then headed into the pines to see what I could stalk.
Spent about 2hrs stalking the boundary without seeing an animal............until I dropped off a ridge into the head of a gully that led to a clearing. As I slowly made my way down through the pines I saw some movement about 80yds ahead , so I slowly dropped to a kneeling position and waited. What I had seen was an ear flicker. After a couple of minutes a head slowly appeared over a small rise and kept moving to my left. As I wanted a spiker I elected not to take the shot but wait till I could positively ID the sex of the animal. The head did not show any signs of spikes or 'male' headgear...........and it then disappeared behind the hill. I then slowly stalked down to where I could see the animal and after it came partially into view I again crouched and waited for it to come into full view. About 8 mins later I positively ID'd it as a dark coloured Fallow spiker but didn't have a clear shot due to undergrowth. Once again it disappeared 'under' the hill so I stalked in closer. Next thing I see is not one but 2 spikers...........running in opposite directions.
****. I didn't realise that there were 2 animals the same colour and sex in close proximity to each other and what had happened was that while I was positively identifying one through the scope, the other had poked his head up , seen me and decided he didn't want an invitation for dinner. It brought home to me that, even after many years of learning how to hunt, there are always lessons to be learned.
Oh well, I was having a good time so I continued my stalk down to the creek. Before I got there I stopped and had a bite to eat and drink. While I was sitting there contemplating and enjoying the peace and quiet I saw a small movement about 3 feet away from my foot. I sat for about a minute before I saw it again and was surprised to see a twig with a wiggly bit on the end. Here is a pic I took on macro.................
If you look at the left hand end of the twig you can see the head of some sort of caterpillar......when I moved the head disappeared........so I waited till it came out again and videoed it.......
Here is the video............( hope this works)
After playing hide and seek a couple of times, I left the caterpillar to its own devices and headed off.
When I got to the creek I slowly made my way upstream and, after seeing another 'ear flicker' I stalked my way to within about 16yds of this lovely lady............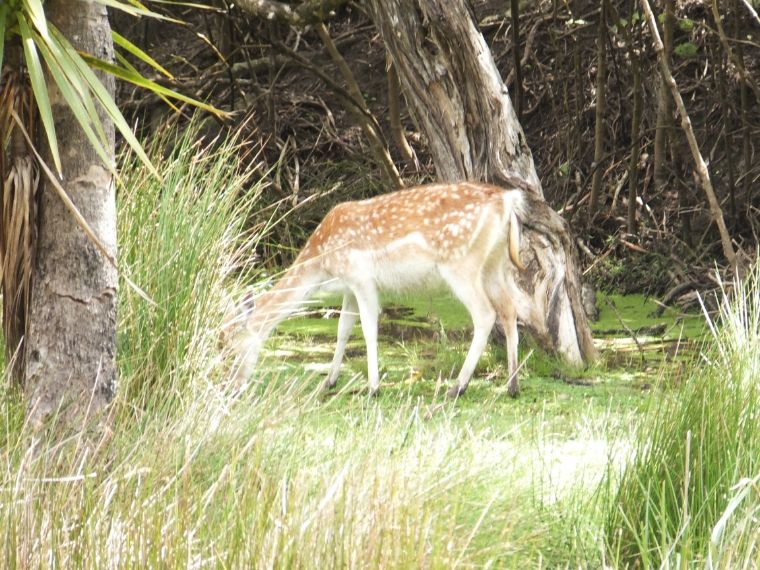 After taking a couple of pics I quietly backed away and moved further up the creek...............and saw a fawn in a clearing about 90yds away. Once again I went into super stealth mode and as I got closer, I realised that the fawn was only about a week old. I knew that its 'Mum' wouldn't be far away but couldn't see any sign of her. After watching for about 5minutes I figured out from the fawns body language the approx position of her mum and stalked in closer to get these shots. Distance between the fawn and I was about 20 yds when these were taken.........After taking the 1st shot 'Mum' came into view from where she was feeding in a clump of rushes so the following 4 shots are taken in sequence.
The first shot..........
One of its mum which was in the rushes to the right and about 18yds from me........
Another 2 pics of the fawn.......
I stood and watched the two of them for about 15 minutes before backing off slowly and heading further up the creek. The little one was amazing to watch. It would sniff the ground, then lick it, then jump with all four legs off the ground, look at mum as though to say " Look at meeeee" then go back to sniffing the ground.
I came across another couple of does and started to take the following video from about 25yds away when I felt the wind swirl on the back of my neck which spooked them........You can see the first doe sniff the air before 'exploding' into action lol.........
As I slowly made my way further up the creek bank I again saw a flicker of movement about 60 yds away between 2 trees so I stopped and waited ...........and waited...........and waited ......for about 3-4 minutes before I saw more movement. I then took this pic before stalking in closer. The arrow shows the Doe's head between the 2 trees .........
I was hoping that the movement I saw was her cleaning her newly born fawn...............and decided to stop and observe from about 40 yds away.........I wasn't disappointed!!!!!!!
Here is a pic of her and her fawn that was only a few minutes old. The movement I saw was mum diligently licking her 'baby'............ WOOOHOO!!!!! I watched the fawn shakily get to her feet and take her first few steps......and as they cleared the trees I took this pic.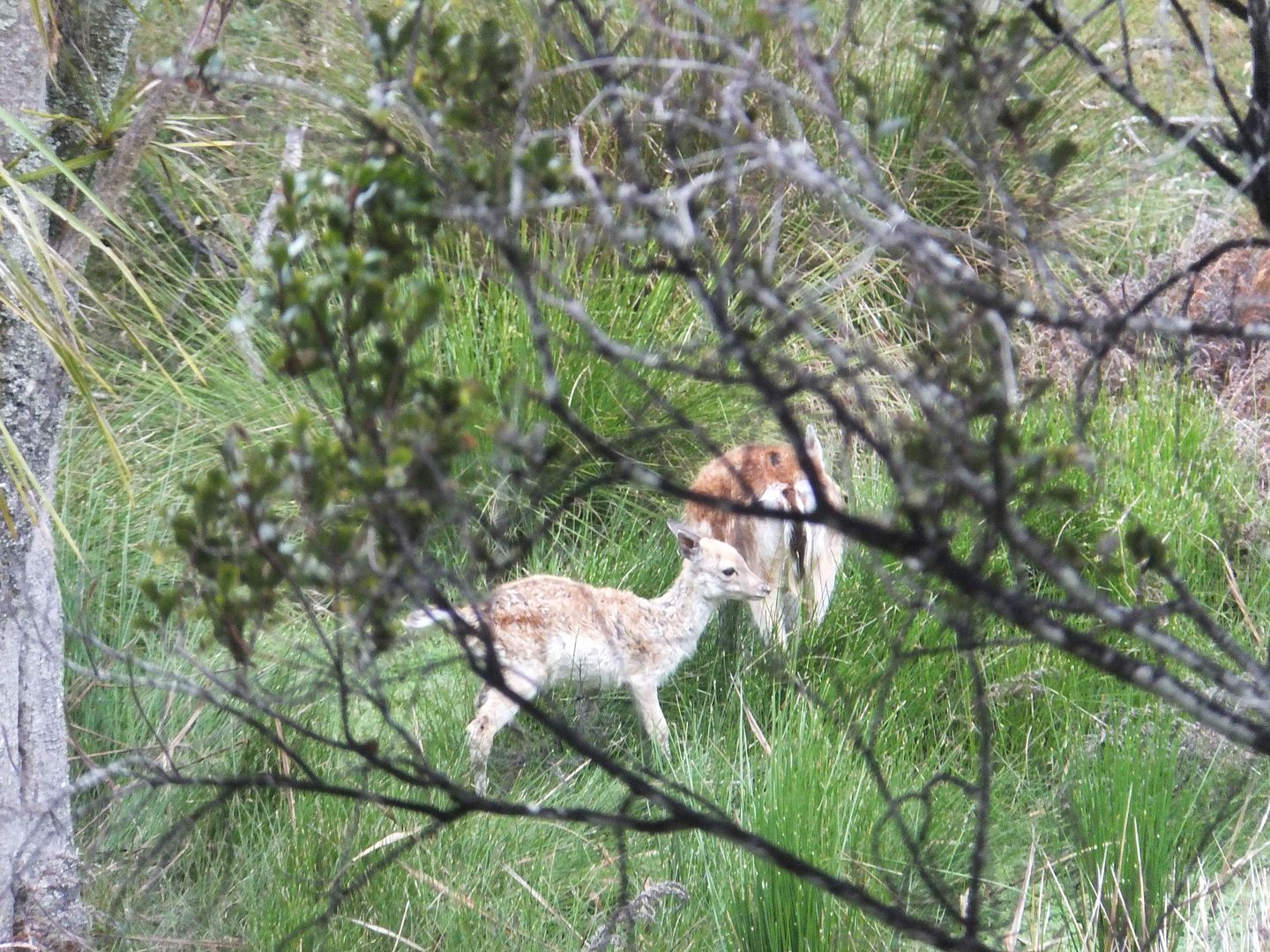 Here is another pic..........
You can see by the fawns fur that 'mum' had done a great job of cleaning her up for the pic lol.
Here is another one..........
I didn't want to get any closer in case I spooked them so I remained about 40 yds away.
As they slowly moved to my right I decided to give a quiet whistle and take a video. ( I figured a quiet whistle wouldn't alarm them and they would slowly walk away..........it worked)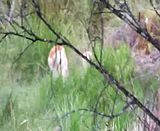 After taking the video I decided to unload the Sako and head back to the Jeep.
I figured that I had done enough 'shooting' for the day and to be truthful, I felt that taking a shot close to all those 'ladies' and their newborns would spoil the pleasure and thrills I had enjoyed. I took a few more pics of animals on my way back to the car, including a couple of a nice spiker but decided to give him a 'free pass'.
Sometimes, the most successful hunts are those where you don't take an animal..............today was one of those days.
I figured that I had proved to myself that I still have what it takes to get 'up close and personal' with animals and that my stalking skills hadn't diminished overnight.........now that I am 60 :rotflmao:
(Now, some of you may think I have gone soft now that I have hit 60.............I haven't................normal transmission will resume tomorrow)
Hope you enjoyed the 'Ladies' I spent time with on my birthday..........
Still enjoying the trip of a lifetime and making the best of what I have.....