Home
›
Main Category
›
General Firearms
Range Report - 200gr FTX in a .357 Mag TC Contender
Zee
Posts: 28,413
Senior Member
Well, I loaded 3 rounds today. As you might have seen in the other thread, I had some die and seating issues. So, I only loaded three round with the starting load.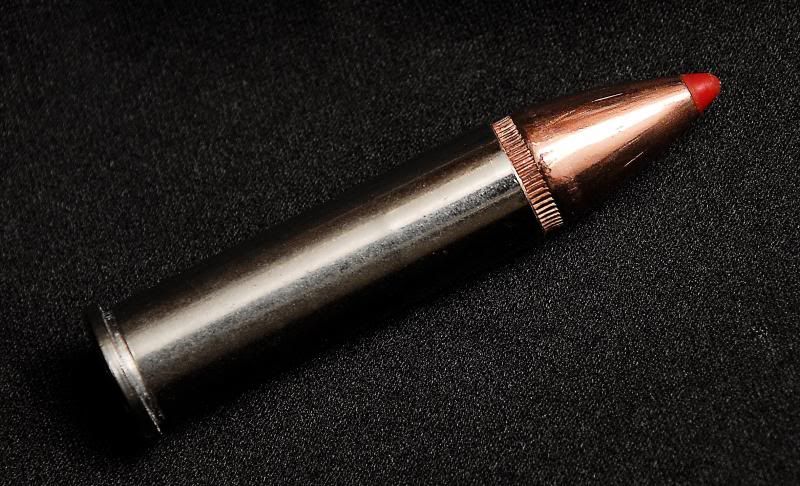 For this testing, the control consisted of Remington 110gr SJHP rounds. Seen here with the 200gr Hornady FTX bullets.
The starting load consisted of:
TC Contender w/ 10" .357 MagBbarrel
200gr Hornady FTX Bullets (tips removed)
Remington Brass
CCI-Small Rifle Primers
12.0gr H110
1.387" OGL (1.920" COAL)
3-Shots
25 Yards
I fired 3 rounds of the Remington Factory ammo first.
Then, I fired the 3 test loads.
I am quite pleased!!!! They fired without a hitch and were surprisingly accurate!!!! The small rifle primers worked as planned and the resulting primer strikes looked exactly like the factory primers. Recoil was a little more than the 110gr bullets, as you can see in the videos, but not bad at all. I was using a relatively light grip on the gun for bench purposes. Not free recoil.......but not a death grip either.
I'm very happy so far!
Once I get the die issue worked out, we will be up and running on the rest of the loads!
On a side note, here is my GoPro set-up.
"To Hell with efficiency, it's performance we want!" - Elmer Keith