Home
›
Main Category
›
Personal Defense
AAR: Talon Defense, Force on Force, Simunitions class.
Eli
Senior Member
Posts: 3,074
Senior Member
This past weekend I had the extreme good fortune to be able to attend a FOF class with Talon Defense.
https://www.facebook.com/TalonDefense.org/events
https://www.facebook.com/TalonDefense.org
This is the third class that I've taken with Talon Defense, and it definitely will NOT be my last. Absolutely fantastic learning environment/teacher.
Like the previous classes that I've taken with Chase, the day started out with a short introduction of the students, a safety brief, and then a really good discussion on the mindset and "attitude" if you will, of fighting another person/persons who also have weapons, and want to hurt you just as much as you don't want to be hurt.
Once out on the range, we started out working on some basic weapons manipulation drills just to get everyone warmed up. After a short period, things started speeding up. We started working on targets that turn to face you for a certain amount of time, the instructor calling out certain numbers (BG photograph target with multiple numbers around the edges), or combinations of numbers that the student had to engage while the target was facing them. He also threw in some mental exercises, depending on which side of the target the number was on, the student moved in that direction while engaging, combinations of numbers meant that the student had multiple things/steps/movements to "figure out" while engaging the target. During all of this we were working HEAVILY on reloads, the idea being to get the student to do their reloads subconsciously, move subconsciously, all the while keeping a clear head and actually THINKING about what we were doing in regards to the threat. Quite stressful, and very effective.
After this class I've gotta say, I'm very happy with my reloads. No, I'm not going to Tomasie the gun back into action, but I didn't screw up a reload all day long......for me, that's progress.
**All photos courtesy of Abner Miranda**
After lunch, the fun started. The instructors set up three different scenarios for each of the students throughout the rest of the day.
First scenario was the classic "ATM withdrawal" scene. Two suspicious characters, one clearly visible, one you have to look for. I didn't screw the pooch on this one.........I popped a weeks supply of little blue pills and got down with the whole friggin animal shelter. BG1 is by the ATM, BG2 approaches and ask "hey man, got the time?"....you can probably guess where this is going. Like an idiot, I looked at my watch. The instant I did it, I knew that I had screwed up, eyes come back up to BG2, he's a few feet away, coming at me with a knife, I managed to draw and hit him a few times before he got me with the blade (I'm actually pretty proud of that), but his partner lit me up with a Ruger Security Six. The actual answer to that scenario was, when you come around the corner and see shady dudes hanging around the ATM........go to a different ATM. Go figure, huh?
Second scenario was, going back to your car at a gas station (going back into the store was obviously the first option, but we were instructed to go ahead and play the scenario out). You come out of the stop-n-rob to find three dudes standing around their car, which is parked right next to yours. The idea being, once you get in between the two cars, you're screwed. For me, this one involved a whole lot of avoidance, a whole lot of retreating, and some very naughty language. As soon as I took in the situation, I determined that there was no way in hell I was going to get in between the cars. Instead of trying to get into my car, I approached to a still relatively safe distance, and verbally confronted the guys. When they had figured out that I wasn't coming any closer they all started walking towards me. Regardless of verbal commands, they kept approaching, I kept backing up. My gun came out, there's didn't, but they were still approaching. I made the decision to start shooting if one of them moved toward a weapon or if I could get behind cover, whichever came first. Before either of those things happened, the instructor called a halt. Basically they couldn't flank or get behind me and I wasn't allowed to shoot them. Either way, I didn't shoot anyone and I didn't get shot.....I count that one as a win.
The last scenario was the fun one.....it was the one that puts you in the mindset of "sometimes, life just sucks". Scenario is, you're going to pick up your teenage child from the mall. As you're approaching the entrance, several distraught individuals pour out of the doors, panicked, screaming that some guys are fighting, one of them has a knife. You go inside and find that it's your kid that's got the knife, and is stabbing someone on the ground. As I was yelling at "my son" to stop, another person with a gun steps out from behind a corner, also screaming for him to drop the knife. Kid doesn't drop the knife,I yell at the other guy to drop his gun, other guy shoots "my son" and I, of course, light him up. This one actually turned into a running (waddling in my case) gun fight. I got hit once in the left shin, but put most of two magazines (loaded with 5 rounds each) into the other shooter. Once again, even while trying not to get shot, I didn't fumble my reload, I was VERY proud of myself on that one.
Story on this one was, "my son" got jumped by a group of guys that he'd been having problems with at school. He was defending himself. The other guy was a CCW holder that came onto the scene after the main group of BGs had run off, saw one guy stab another guy, told him to drop the knife and the guy didn't, his shot was justified. I just saw some guy shoot "my son", I was completely justified in dropping him. This scenario was designed so that it wasn't really possible to have a happy ending, but rather, it made you think about EVERY single detail in the discussion afterwards.
**All photos courtesy of Abner Miranda**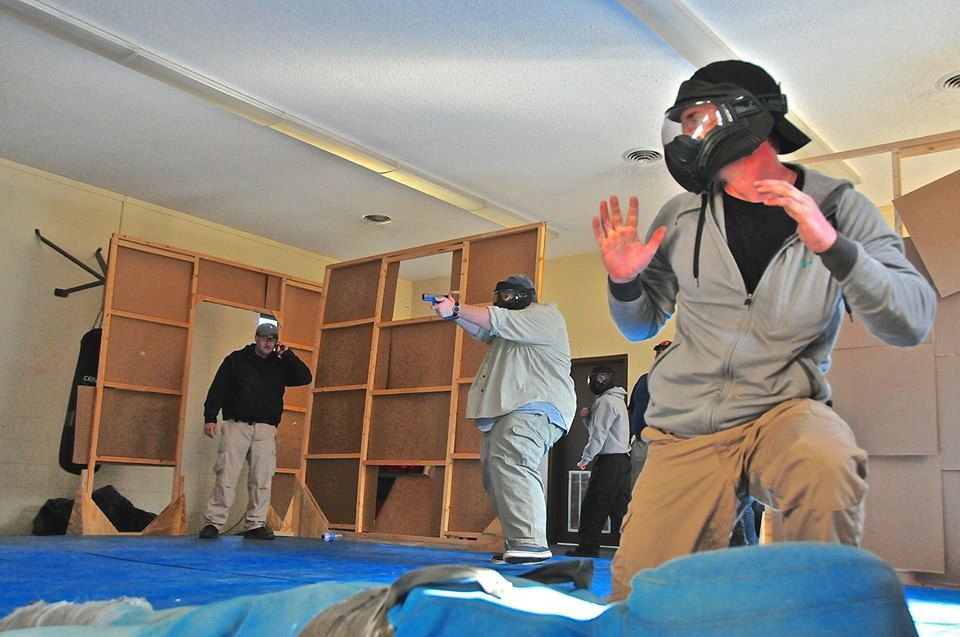 This class, more than any other, has validated my carry gear. My method of clearing the cover garments from both the holster and mag pouches. The fact that I REALLY like a hi-viz front sight (the simunition guns had Glock factory sights). It also let me know that I have a "sure" method of reloading, now I just need to work on speeding it up.
On the mindset front: Situational Awareness is paramount. Don't do stupid stuff (like looking at your watch, while a shady character is approaching you). Leaving yourself a way out of places or situations...an escape route, if you will. It also reinforced the fact that you need a lawyer on retainer, and in the event of a shooting, USE THEM! While I was shooting, I knew that I was doing the right thing, but in the discussions afterwards I had trouble articulating exactly why I was pulling the trigger. In a real life situation, I'm sure it'd be a million times harder.
Once again, I've got to give a shout out to Chase Jenkins and Brandon Teague of Talon Defense. A couple of phenomenal instructors. Throughout the class they are constantly keeping an eye on everyone, taking the time to assist individual students if they need it. They encourage questions throughout the entire class. After every few drills there's a "huddle" where each student gets the opportunity to state what they thought was the most important thing they took away from the drill, as well as to ask any questions that they may have. Any question that the student has is answered to the students satisfaction....not only "how", but the "why" as well. Chase is also a very "A way" teacher, instead of a "MY way" instructor. Anything that he shows you how to do, he'll show you what works best for him, and then show other ways of doing the same thing that might work better for other people. We don't live in a cookie cutter world, so this is much appreciated.
As I've said before, I've taken multiple classes with Talon Defense.......and I'll definitely be taking more!