Home
›
Main Category
›
Hunting
Son of E
Ernie Bishop
Senior Member
Posts: 7,108
Senior Member
Yesterday it rained almost all day. We dearly needed it, but it was also supposed to rain through most of the evening with rain also called for this morning.
Erik and I had already decided we were not going to make an early start, but sleep in and head out sometime before noon to avoid rain. Erik also had a friend stay the night who would be with us for the antelope hunt. I had my 6.5 Leopard XP-11 (AKA Pink Panther) with me but really did not intend to use it unless we just happen to come up on a big mule deer or some unsuspecting coyote.
Erik is using the 7mm SAUM Remington XP-100, built by Mac's Gunworks. Optic is a FFP Leupold Mark 4 6.5-20 with Holland's ART reticle. I use H-1000, Federal 210 M's, Remmy brass with the necks lightly turned and the brass worked over for consistency. Muzzle velocity with the 162 A-Max is 2759. Recoil is all but nothing with Holland's Radial brake.
Erik has been shooting this specialty handgun for well over a year out to 1000 yards, and has been real proficient with it from field shooting positions. While at Holland's Long Range Shooting School this past spring he told me out of the blue, that come October he wanted to take a buck antelope over 500 yards. I didn't doubt his ability for this distance if conditions were good and he was relaxed. I said, "Sounds good to me."
Once we got to where we could hunt, we quickly spotted a group of lopes and saw an average buck for this area. Erik had told me earlier he didn't really care about the size of the antlers, but was looking for a good shot opportunity. First we thought he may be able to just go into the field a little bit for a shot, as they were 530 yards away, but the animals moved over a slope before he could get set-up. We moved further to the east and then started heading north to see if we could find them again. We kept seeing some does, but the buck wouldn't show himself. Finally the buck popped out of the drainage. We made our way slowly (single-file) to a high spot, so Erik could set up prone. Made it there and ranged the buck at 510 yards. Erik is getting set-up and I happen to look at the XP and notice the bolt was missing! "Erik, where is the bolt?" He looked at me with 'deer in the headlights' kind of look. It ended up being back in the Tahoe.
So now we have to go all the way back to the vehicle, get the bolt, and head back to where he had set-up. As you would guess, the buck had disappeared. Question now was, which way. We move off to the right into a north/south drainage to avoid a baby buck and some does. We spot him again, and get up on top set-up, but to no avail as he goes over another ridge.
Now we are more or less in the open now going basically north trying see where he went, when we noticed a herd to our NNW. There he is, or it is possible it was another buck who was very similar. Regardless, we need to make our way to the left to a higher spot for a shot opportunity.
The wind is almost a full value averaging around 7mph. With the terrain and everything I told him to dial for a 5mph full-value wind. The buck had been herding does around off and on, so we waited till he had his fill of that and was standing still eating. At the shot, I was prone with my binos, and I could tell he had hit him, but it took some time for the meat report to make its way back to us. The rest of the herd moved to the west going up the hill, but the buck turned and went the other way going down the hill. We saw him crash, about 50 yards away. Erik's classmate was using my Swaro LRF and I was using the Leica 1600 LRF. Both worked great, but I was wishing for my small tri-pod to make ranging easier.
Erik made his 500 yard goal and then some.
He killed that buck with one shot at 690 yards.
Not bad for a teenager with a specialty pistol.
I am very proud of him!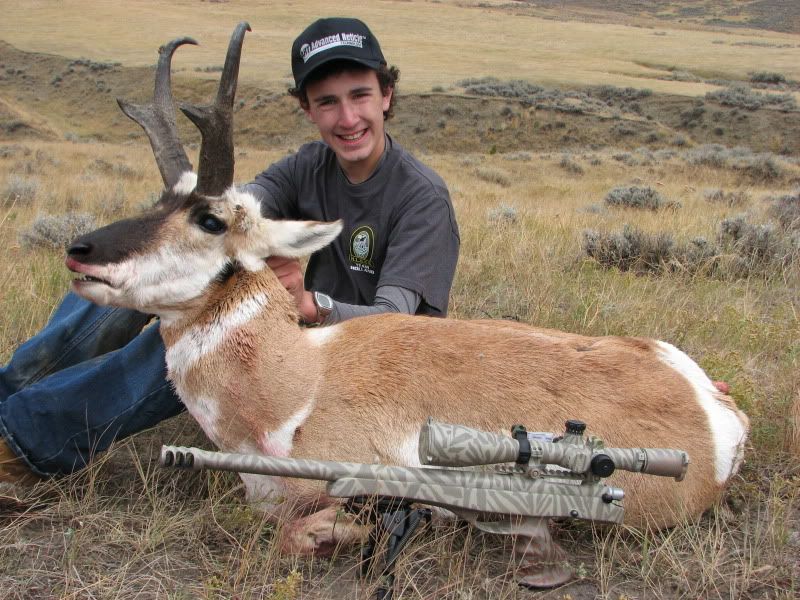 Ernie

"The Un-Tactical"