Home
›
Main Category
›
General Firearms
Today I used a power drill on a firearm...
shotgunshooter3
Posts: 6,116
Senior Member
... I'll let you know tomorrow how homemade "Dewalt Special" porting works on my AK-74
:tooth:
Just kidding. I mentioned in an earlier thread that I had the Big Brown Truck of Happiness heading my way, and part of the shipment was new AK furniture. Well, all the furniture came in and I finally got around to installing it. The power drill comes in because K-Var leaves their butt stocks undrilled to make up for any differences between AK manufacturers. The current finished product: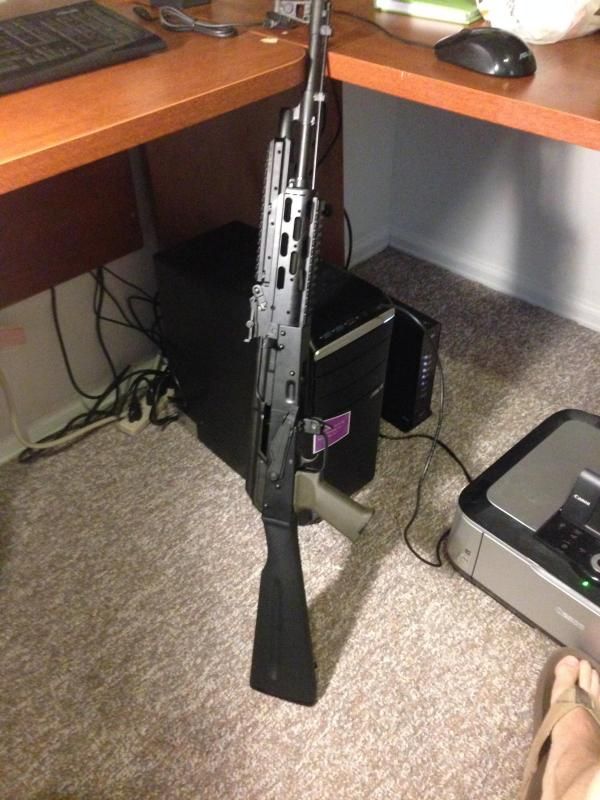 Waffen Werks AK-74, 5.45x39 (still $.21/round even with the 7N6 import ban)
Damage Industries "blemished" forend rail system. I can't find the blemish.
Magpul AK MOE grip
K-Var NATO length (M16A2 length) butt stock
I'll have a range report when I meet up with Elk Creek on Friday, but handling wise the gun is great! It balances right over the magwell, and once I add the Leupold Delta Point to it it should balance right under the rear sight. I may end up rattle canning this gun if I get bored, but we shall see.
For comparison, here is what it looked like when I purchased it:
(Being between jobs is kind of fun, if you planned for it, I've got a few more weeks to occupy myself with projects and travel before I get sucked back into the Army life)
- I am a rifleman with a poorly chosen screen name. -
"
Slow is smooth, smooth is fast
, and speed is the economy of motion" - Scott Jedlinski