Home
›
Main Category
›
Hunting
More pics from the ballot hunting season.
Havent been on patrol for the last 3 weeks ( I formulate the roster so I decided to have a break.)................but I figured I had better do my bit.
Over the last 3 weeks the weather has been terrible with gale force winds and torrential rain. I figured there would be some damage to the forest and one of the other patrols gave me a 'headsup' so I made sure I carried some cutty slasher thingys to clear a few tracks................what I should have taken was a D9 Bulldozer!!
On one of the main access routes to the hunting blocks I came across this.................
About 30 trees stacked on top of each other completely blocking the road.............and there aint no way I was going to make any impression on it with my axe......
Here is a pic from the middle of the mess.....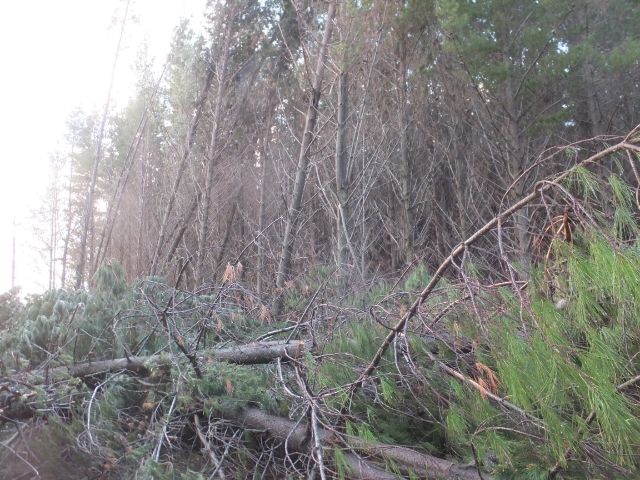 Because the road was blocked, it meant a detour of about 12 kilometres to access some of the blocks.
I decided there was a better way.................and remembered a disused track that went cross country, by disused, I meant it hadn't been driven on for about 4-5 years and in places was little more than a pedestrian track. Armed with my slasher I walked part of it and cleared some of the big stuff...............then decided that I had done enough and it was time to take the jeep through. After I successfully negotiated the track the first time, I decided to video the return journey.
Here it is................yes, there is a track somewhere in there :rotflmao:
It was an interesting trip..............
It enabled me to take a short cut so that I could go and pic up these...............
Here is a close up of the hogs 'hooks'..........
Just to show you that we have idiots over here, this next pic is for the Defense Range which is adjacent to the forest..........Stick any kind of sign up out here and there is always someone who will use it for target practice................
I have a few more pics to post up but its now midnight and I have to be up at 4am so I will post some more either late tomorrow night or on Monday.
( hope the vid comes out)
Still enjoying the trip of a lifetime and making the best of what I have.....