Home
›
Main Category
›
General Firearms
Range report Zavasta M92 AK pistol range report
timc
Senior Member
Posts: 6,684
Senior Member
Finally got the new AK pistol out to the range today for a little while.
Range conditions:
Partly cloudy, 15 mph wind, 97 degrees, 37% humidity and just plain DAMN HOT!
The beast:
I changed the grip for a finger groove grip, added the Midwest Industries quad rail, extended tube for the brace and a Bushnell TRS-25 red dot.
How she performed:
I ran 4 mags through it today with a combination of steel and polymer mags, all ran flawlessly with no hiccups at all. Ammo used was Wolf black box 123 grain steel cased. Shooting the gun with the brace is very comfortable and the gun is very soft in the recoil department. There is quite a fireball when fired but it is not too much of an issue keeping on target. The Bushnell TRS-25 red dot is very well suited for this gun. The dot as you will find in most reviews is not the best, they say 3 moa but it is more like 3 moa wide and 4 moa tall with some distortion but it functioned well and was easy to used. I do really like that it has a really long battery life so it is worth the imperfection and this gun is never going to be a tack driver anyway. All in all I think this one is a keeper and will have a long term place in the safe as well as duty as a truck gun for running around the ranch.
Here is one of the 50 yard targets from this afternoon.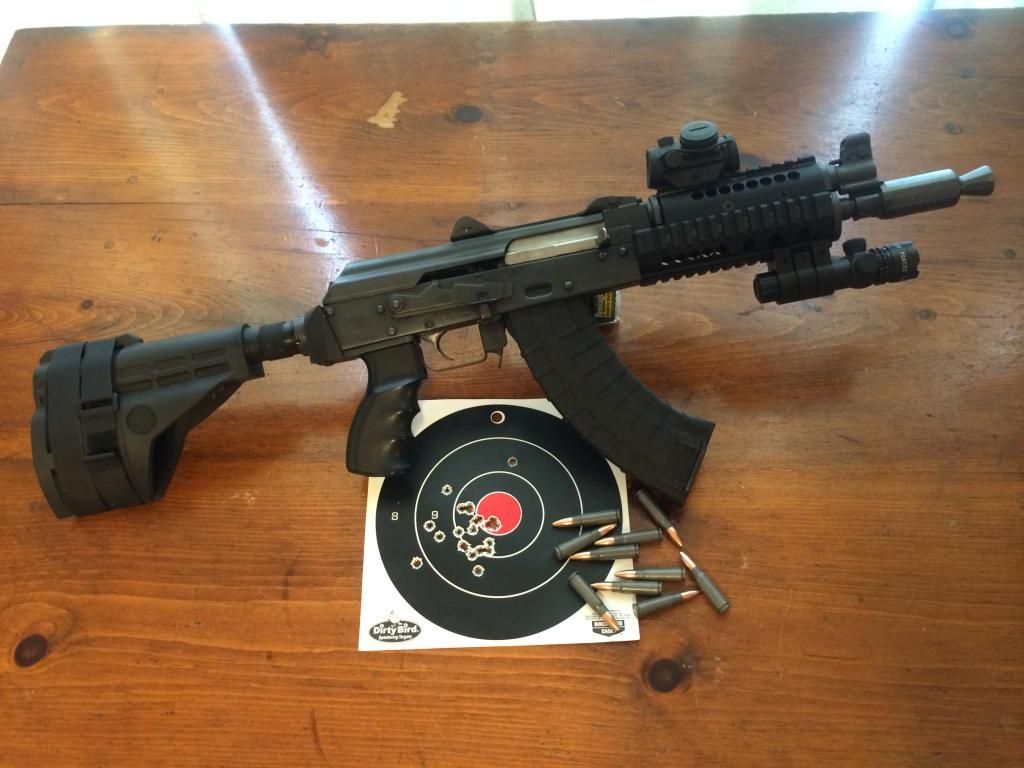 timc - formerly known as timc on the last G&A forum and timc on the G&A forum before that and the G&A forum before that.....
AKA: Former Founding Member