Home
›
Main Category
›
Hunting
The .454 Casull and Joe's bullets - Good Combination!
My son and I went hunting with a friend for deer this evening. Both of us had decided to use a more challenging weapon. Black powder for him.......in the form of my previously owned Lyman GP Rifle in .54cal. and I.........well I brought two. Primary would be my 10.5" Ruger 3-Screw Super BlackhawK in .44 Mag with 325gr WFN-GC bullets. Backup would be my Super Redhawk in .454 Casull and Joe's 300gr WFN-GC bullets.
He set up on the wheat field side of a large palm tree grove and I set up with my boy in a pop-up tent blind on the opposite side of the grove, near intersecting trails. We knew the deer had been traveling to the wheat field to feed at night and were hoping they would come in legal shooting time.
As the evening progressed, I began to see bands of deer way off in the distance. They were leaving a river bottom and entering the plowed fields enroute to the wheat field behind me. But, would they make it to me in time?
Here is the view from my ground blind.

A
- Creek Bottom
B
- Fence Crossing
The wind was in my face in a perfect set up. I was overlooking a fork in a trail that would take the deer either to my left or my right as they passed me along a trail on their way to the green field behind. The deer made their way SLOWLY from
(A)
and paralleled the fence on both sides. Some meandering off into the plowed fields to forage or mill around. At that rate, they'd never make it to me before dark.
Suddenly, I got a text from my friend that some Blackbuck does were heading his way. About 20 minutes later....................BaWOOOOOOOMMMMMMM!
Text:
Me: Well?
Him: They're pretty small.
Me: What does that mean?
Him: It means, I missed.
Seems he did not account for the diminutive size of the Blackbuck does. What he thought was a little over 100 yards turned out to be less than 75 yards. He shot over the doe.............and watched his round ball skip down the wheat field in little puffs of dirt........as the does trotted off to the east. Seems it was up to me now.
Back to watching the progress of the deer in front of me. Painstakingly slow........they progressed.
I was using a BOG-Pod and PSR Rest. Not an exceptionally stable platform, but usable for the short distance involved with most revolvers. Especially one with iron sights.
The hope was that the deer would come at me from a quartering angle, either to the left or right as the trails led them past.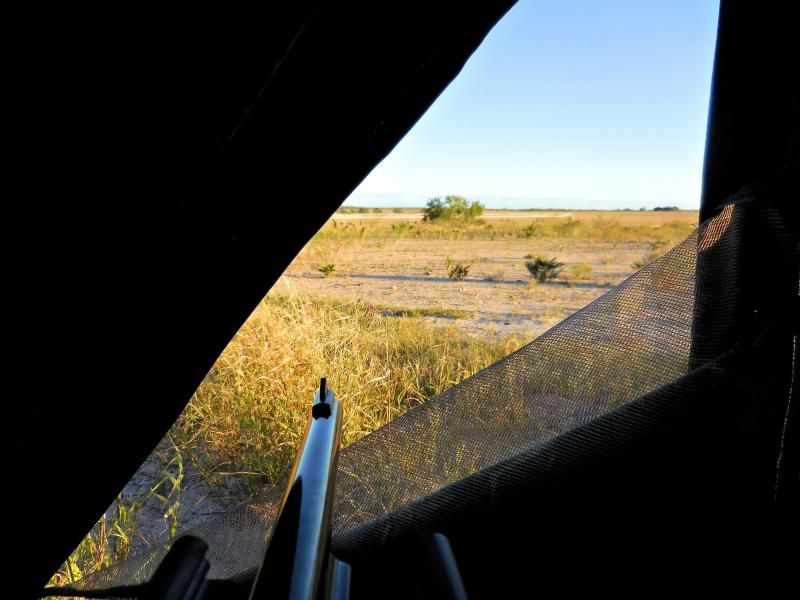 Well, the sun set and the light began to fade. Anxiety was creeping in as two does crossed the fence at (
B
) and made their way up towards me. I told my boy to get ready as they approached and we both put on hearing protection. Then..........I lost sight of them in the low ground. Light was fading............where did they go? Darker still........... sights getting questionable..............darn it........time to switch! I reached down and grabbed the Casull and placed it on the PSR. Moments later, I see the does again. But, they aren't on either of the trails. They are heading cross country in a perpendicular route that will take them across in front of me out past 50 yards. I'd already had the bushes ranged and knew the 50 yard mark. They would pass just behind it.
The lead doe walked her route as I tracked her. The heavy reticle of the 4x Leupold contrasted well against her tan body. As she passed between two mesquite bushes (
C
) at 54 yards, I moved the reticle to the front of her shoulder............
"BOOM"
!
Up in the air she jumped and kicked her back legs. Hitting the ground on all four legs, she lurched forward. On the first bound, her front legs could no longer support her weight and her front end crashed to the ground. That didn't stop her, though. She drove ahead with her strong back legs and propelled herself 43 yards like a plow making a furrow. Until flipping end over end............she came to rest.
Let the cheering commence!!!!!
My first game animal with this handgun, the .454 Casull cartridge, and any cast bullet from a handload.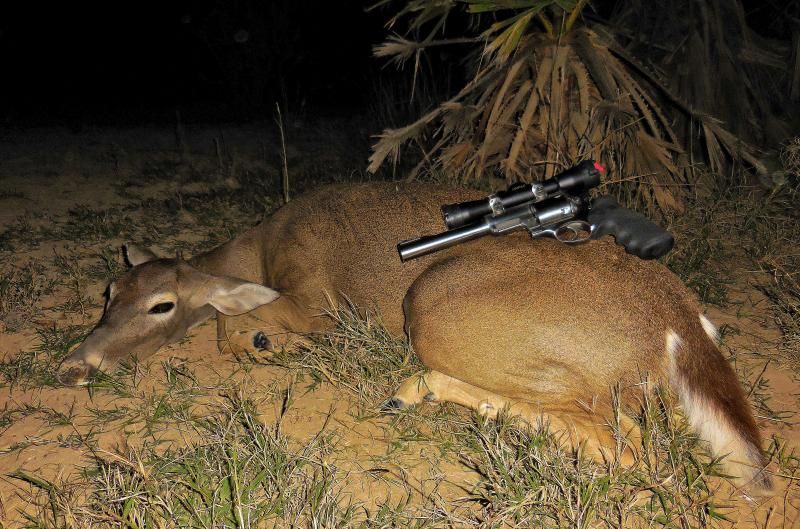 The cast bullet passed just behind her on side shoulder bone and busted right through the off side bone, snapping it clean in two. It destroyed the front of her lungs and severed her wind pipe and carotid arteries. But........amazingly..........there was little to no blood on the ground. Only where she came to rest on her side. Most likely, I figure this is due to the fact the entry and exit holes were pretty much buried in the dirt as she plowed forward. Being as they are towards the front of her shoulder and in contact with the ground. But, that
300gr WFN-GC
drove a beautiful hole right through her.
I am impressed with both the power of the gun and the performance of the bullet. WOW!
I am exceedingly pleased that my boy could be with me. It was a very fun hunt that culminated in the last few minutes of shooting light.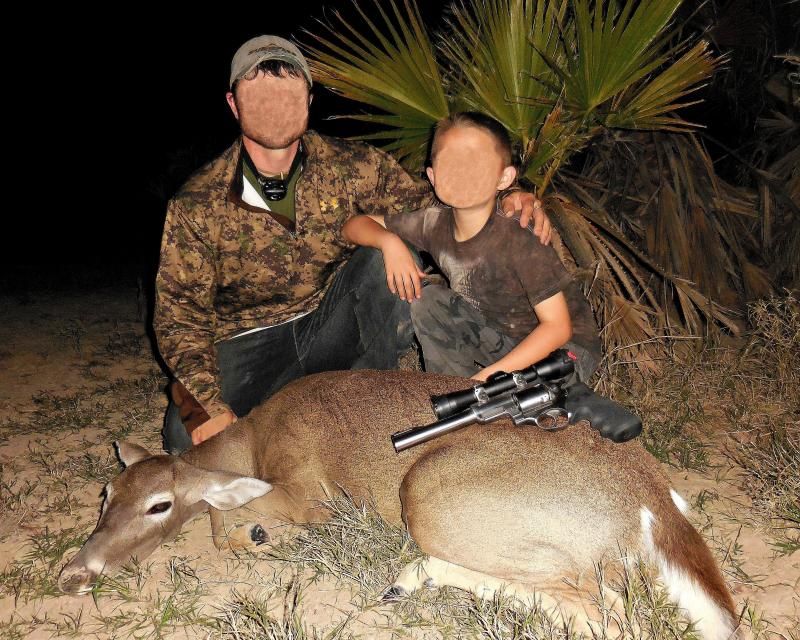 I'm digging on the Casull.
"To Hell with efficiency, it's performance we want!" - Elmer Keith