Home
›
Main Category
›
General Firearms
Frankford Arsenal brass cleaner.
JasonMPD
Senior Member
Posts: 6,577
Senior Member
I took the plunge on this tumbler after manventureoutpost.com finally got one of them back in stock. It's the "Platinum" kit that comes with a sample of their detergent, 5lbs of steel media (about $40 elsewhere) and the tumbler unit.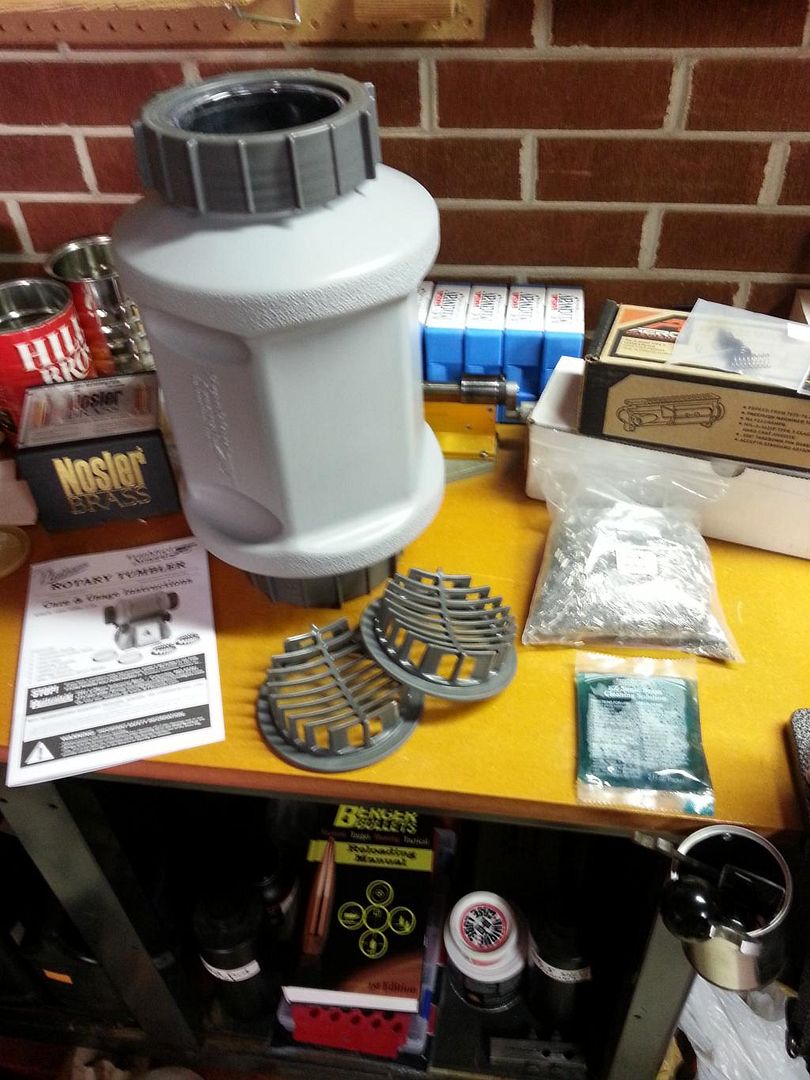 First Impressions:
This unit seems well built. If they stay on this path, I see Frankford Arsenal making a real good name for themselves. I still use one of their $22 digital calipers and they read consistent with a friend's Starrett dial calipers that were $150.
The drum is
robust
. It's injection molded as one piece (no ultra sonic weld seam) and is in two layers: externally it is made of tough plastic about 3 or 4 mm thick and then on the interior the drum is made of a dense rubberized plastic to keep noise down and prevent case neck damage. The lids screw on securely at both ends and I experienced no leakage whatsoever.
The kit comes with two separator screens that screw in place of the tumbling caps and allow pass-through rinsing of the brass in the drum once tumbling is done. The screens will not allow even .223 brass to pass through.
The media: steel pins. You HAVE to be thoughtful when handling them. They are magnetic, so picking them up can be done with a magnet, but spilling 5lbs of these pins will wad your panties faster than a Rosie O'Donnell gun control summit... I haven't done it yet, but just the thought....
A magnet....useful. I'm going to buy the $25 magnet Frankford Arsenal sells for moving the pins around. Using a 3 gallon bucket I was able to easily enough separate the pins from the brass using the wash screens attached to the drum and a hose.
Noise. Loud. Obnoxious. But so are vibratory cleaners as far as I'm concerned. I just run this thing in another room. Not so obnoxious.
The motor sounds well-suited to the task. My maiden run was about 400 cases (222, 30-06, 308 and 243) plus the pins, and topped off with water and detergent--about 20 pounds. It never sounded bogged down. It ran smoothly for the 90 minutes in tumbled for. FA also says the unit is all gear driven with no belts. The motor is also covered completely. It's not guarded against submersion, but a decent splash of water won't harm anything. The Thumblers tumbler has an exposed motor. And costs $100 more.
The drum again....is huge. 7.0 liter capacity. Good for 1000 .223Rem cases or 1500 9mm cases or about 600 .308Win cases. Now for the one immediately noted inadequacy: too little media. This big SOB will be better suited with about 8 pounds of media, not 5, for nominal brass loads. It still cleaned the brass very well, but with an extra 3 pounds of media will make the 90 min time better spent. I plan to buy more media anyways.
All in all I am very impressed with this tumbler kit for $160. And 200-degrees in the oven for 40 min dried them out with no issues. I'm still going to try making a tumble drier. It'll cut down on doing time. When I get home I'll upload the video of this thing in action.
"There are three kinds of men. The one that learns by reading. The few who learn by observation. The rest of them have to pee on the electric fence for themselves." – Will Rogers