Home
›
Main Category
›
General Firearms
XS Sights Ruger Gunsite Scout rail/peep sight.
JasonMPD
Senior Member
Posts: 6,557
Senior Member
My Gunsite Scout got back-burnered a bit due to my Remington 700 .280Rem and my AR15 SPR projects going on. Then my rekindled reloading adventure with the Lyman T-MAG, yada yada yada. I got back out to the range this afternoon with my SPR to try the new Geissele SSA trigger I installed and it is superb, by the way.
I took my Gunsite Scout on a whim, thinking I would shoot it if I didn't run out of daylight. I am sure glad I didn't run out of sunlight. I had purchased and installed a XS Sights full length rail for the Scout rifle so my scope mounting options were not limited.
It has a rear peep sight that is adjustable for windage and elevation. I thought it would be a backup sight at best, but XS Sights had this rifle very much in mind when they designed this rail!
You can see the windage adjustment screw and the peep sight in the photos here. Windage screws are located on both sides. Loosening only one windage screw is required to allow the peep sight to be screwed up or down. Note the fine threads. Each half turn was about 1/2" at 100 yards, give or take; very useful.
I am no aficionado of open sight shooting. Honestly I don't do it very often--not as often as I should. But printing a 2" 3-shot group at 100 yards put a grin on my face. I'll tighten it up a bit more with some additional trigger time.
I was using some 15 year old Winchester Super-X 150gr SP's. I will be attempting to reload a similar round. It chronographed at 2600 fps from the Scout's 16.5" barrel. That'll do!
And the brand-less 180gr SP IMI ammo that did this scoped...
...I will be disassembling a round to try and determine a similar American powder&bullet to start a load development with.
I can't sing the praises of this rifle enough. Truly a great all-around gun.
Playing around with my phone picture editor...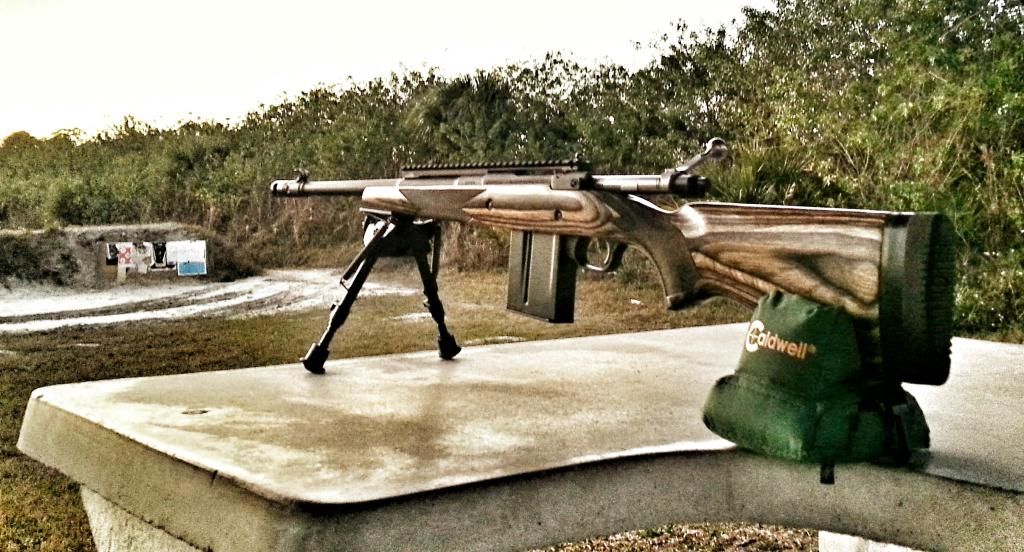 "There are three kinds of men. The one that learns by reading. The few who learn by observation. The rest of them have to pee on the electric fence for themselves." – Will Rogers