Home
›
Main Category
›
Hunting
.430 SJS takes ANOTHER PIG!
Got a wild hair to go after another pig tonight. Took off around 10:00 and headed to the same field. The moon wouldn't be up for another hour once I arrived and besides, the clouds had moved in again. Would be a little harder to see tonight. But, once I got to the field, I saw 7 pigs in the far corner. Grabbed my gear and the .430 SJS and took off across the field.
It had rained heavily last night so the field was damp if not a little muddy in places. Good for the pigs. Good for me. With the wind perpendicular to my direction of travel, I headed right at them. They were moving to my right at a slow feed, so I set my course to intercept them. At 100 yards, I slowed down to a methodical pace and noticed another pig had joind the group. There were good conditions for a stalk. The wind was in my favor and the ground was damp and soft. But, it was a deathly quiet night! No bug chatter or strong wind. Just the occasional grunt from a pig to remind me I was in anything other than a vacuum.
At 56 yards, the lead pig of a lighter color, stopped feeding and looked my direction. I froze for a few seconds. She stared off into the blackness that was my direction and then put her head down and turned away back the direction she'd come. She wasn't spooked, but I feared she might have decided something wasn't right. So, as she walked to my left, I raised the rifle and shot her offhand.
BOOM!
And she was smacked to the ground.
Quiet returned as the rest of the band trotted off the direction they'd come. Only an occasional squeal or displeased grunt notified me of their progress in exiting the field. Mine? Never moved a muscle. No grunt, squeal, or twitch. She'd hit the ground and never moved.
I approached and noticed I was a little high and back. Eh..........dark.........moving target........offhand...........dead pig............I'll take it.
The other thing I noticed was that it looked like an explosion had occurred inside her and blown blood, guts, and lung tissue about two feet behind her when she hit the ground.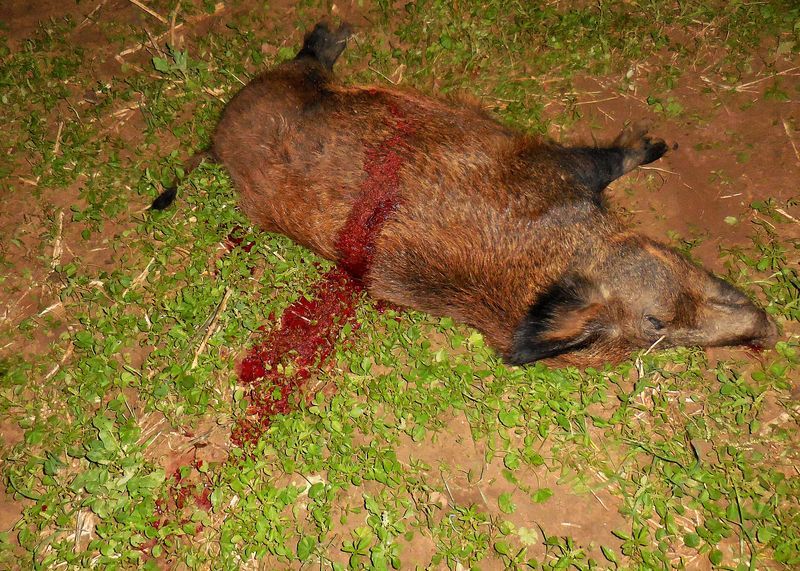 And, the exit was as large as the entrance!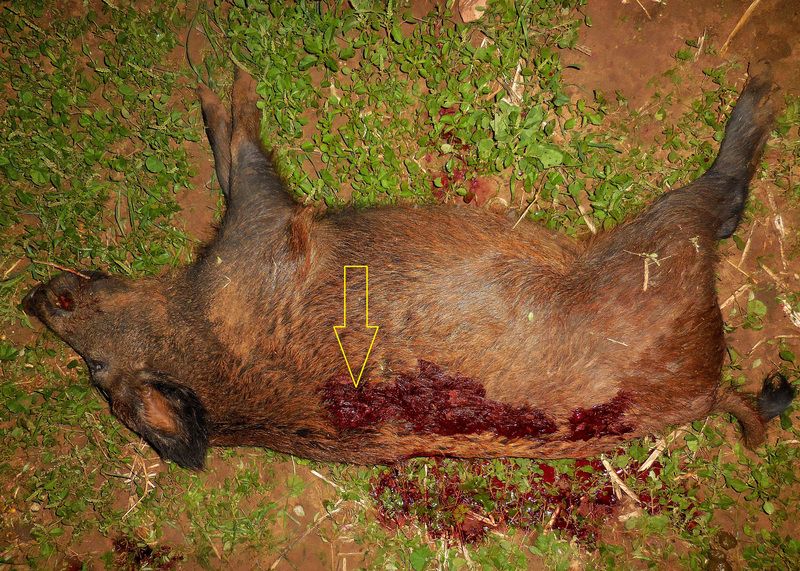 I'd taken her right through the spine as she quartered slightly away. But, the hydrostatic shock of impact had sent a shock wave through her thoracic cavity and abdomen and destroyed quite a bit of internal organs it would seem.
Retrieved my Game Cart and hauled her to the truck.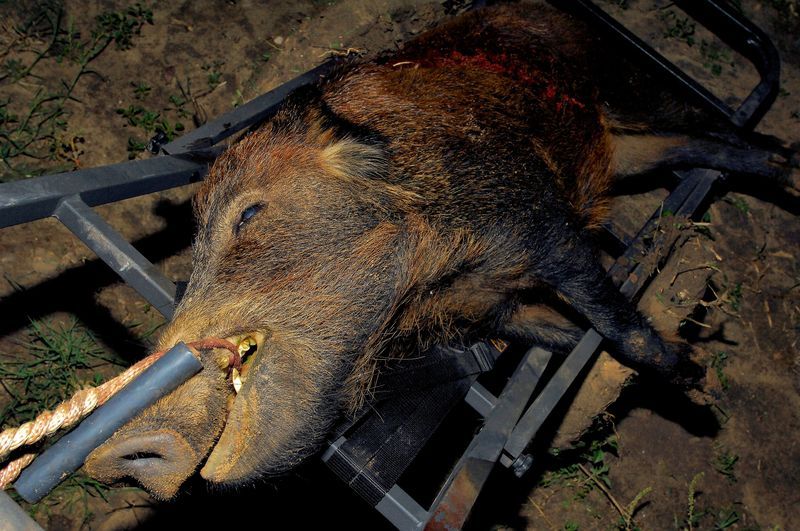 Have I mentioned how awesome this thing is?
The .430 SJS is proving to be an effective pig killer.
Back at the house, she weighed
103 pounds
.
The entrance under the hide was MASSIVE!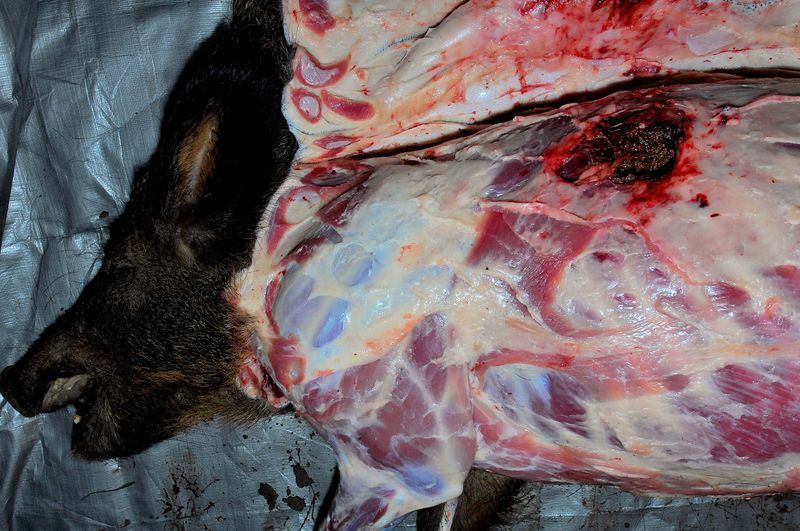 The bullet passed through the center of the spine.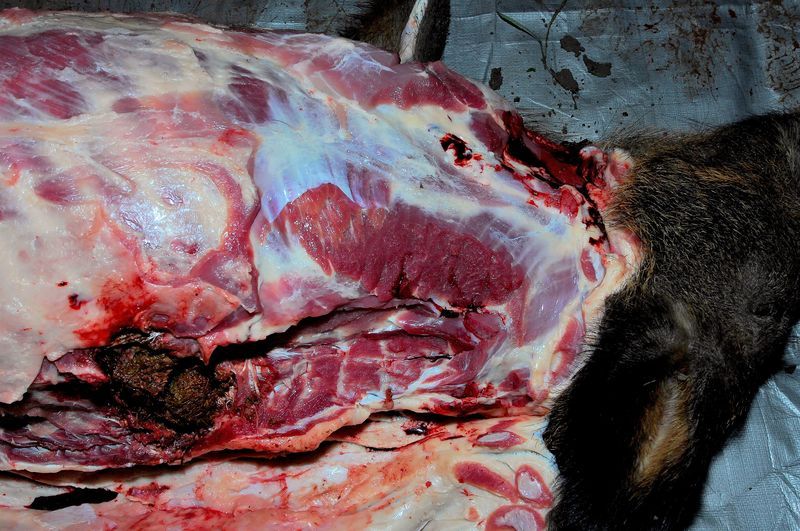 And though it didn't penetrate either cavity, I had gut, liver, and lung parts falling out as I flipped her over from side to side. It flat opened her up!
Exited slightly forward of the entrance.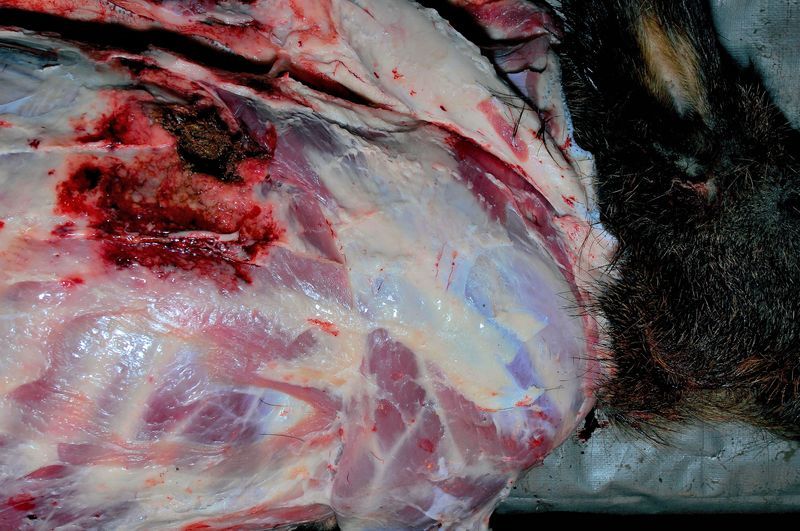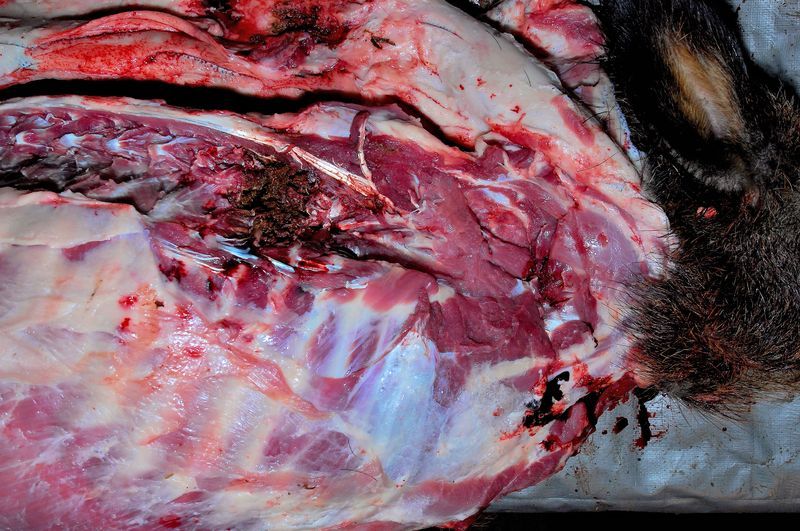 With all the.............stuff..........coming out. Accompanied by the smell. And the fact I'd been able to remove all the meat without getting any visceral on me, the meat, or my truck. I was NOT going to open her up. I know it was a bomb in there............I didn't need it on my hands tonight. Just imagine lungs/liver/rumen all mixed in a blinder. There ya go.
Animal number 3 for the .430 SJS and I don't see it stopping. Dagnabbit! It's a Savage! But, the stinking think WORKS!!!! I found a Savage I like. It's handy. Carries and indexes well. And the cartridge just ROCKS!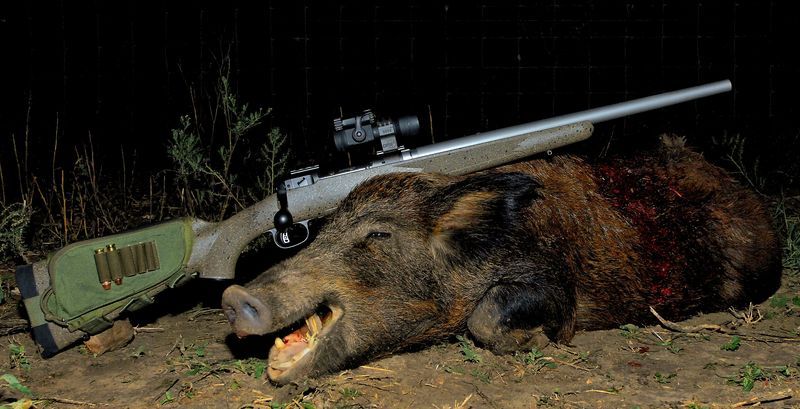 I'm not saying I like/love Savage. Just that I like/love THIS savage. So, don't get any crazy ideas.
"To Hell with efficiency, it's performance we want!" - Elmer Keith