Home
›
Main Category
›
Hunting
Doe with the .243 Medium & 105gr A-Max.
Rancher friend called this morning and asked me to cull a couple does does this afternoon. Of course, I obliged. Unfortunately, he had some stipulations. Those being that it be head shots only and that it be done............quietly. Well, sometimes........you play by the rules.
Decided to take the .243 "Medium" with me, but needed to zero the gun. It was still sighted in for the 100gr Hornady Interlock my buddy used to kill his doe with last year. This time, I wanted to use the 105gr A-Max. A range trip was needed.
Here is a video of the recoil using a Surefire Break and the 105gr A-Max.
http://vid26.photobucket.com/albums/c106/lovinmycaitlynn/Hunting/IMG_2926_zpspsb4y16j.mp4
Got her zeroed for 100 yards and coincidentally, both the 87gr V-Max and 105gr A-Max have basically the same zero. The 87gr bullet strikes just .5 MOA higher. I contemplated going with the 87gr V-Max this evening, but opted for the A-Max instead.
Rancher said my best friend could come along and take the second doe, so we loaded up and headed to the ranch about 3:30 this afternoon. visited for a bit with the rancher and then he took us to the spot he wanted us to shoot the does. Once there, my friend and I set up on a little knoll overlooking the edge of a field and the wait began. Which didn't take long. Deer began to come out from everywhere! No wonder he needed some culled!
Waiting for two dry does to show up took some time. As deer came and went, we had shootable does show up as individuals but then leave before a second showed up at the same time. Our goal was to do a "synchronized shot". Meaning, on a count down, we both shoot our deer at the same time. I was HOPING I could get both deer on video!
Eventually, two shootable does occupied the field at the same time and the jockying for both to be clear began. Mine would be fine and his would be obstructed. His would be clear and mine was walking. Finally, the were both clear but, I couldn't get them in the same view of the camera. We were laying prone on the ground about 2 feet apart and I had the camera just to my left and right in front of my left elbow. It was now or never as his was meandering to leave the field. I told him I was "Up"..........he was "Up"......I started the video and he started the count.
"I have control. In 5...4...3..."
DINK!
One "shot" rang out and two deer fell over dead. I love it when that works.
Here is the video of my doe at the shot. She was 122 yards away and I took her below the ear. She just fell over.
http://vid26.photobucket.com/albums/c106/lovinmycaitlynn/Hunting/DSCN3034_zpsatpgu0cd.mp4
It's pretty cool. We both fired, but you only hear what sounds like one shot. That's how it's supposed to work.
Back at the work shop, we butchered the does. Mine on the right and my friends on the left.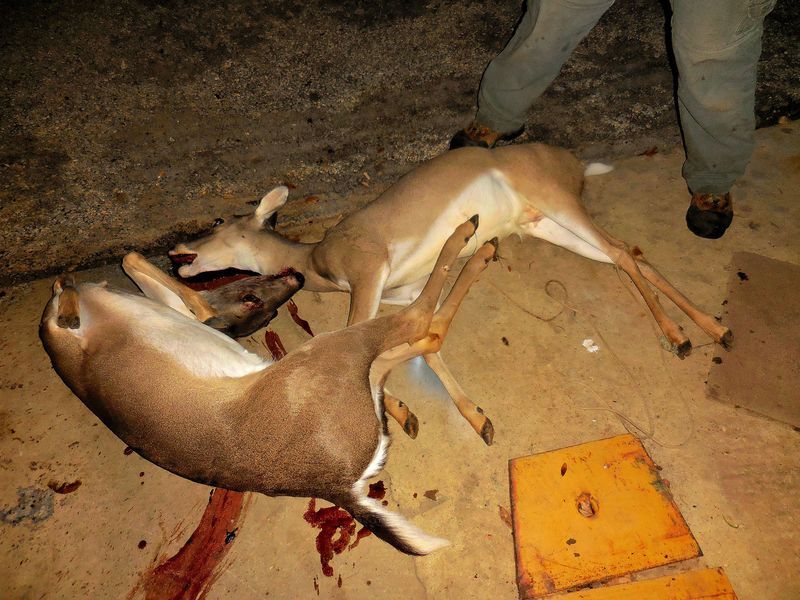 Here is the exit of the 105gr A-Max bullet out of my .243 Winchester.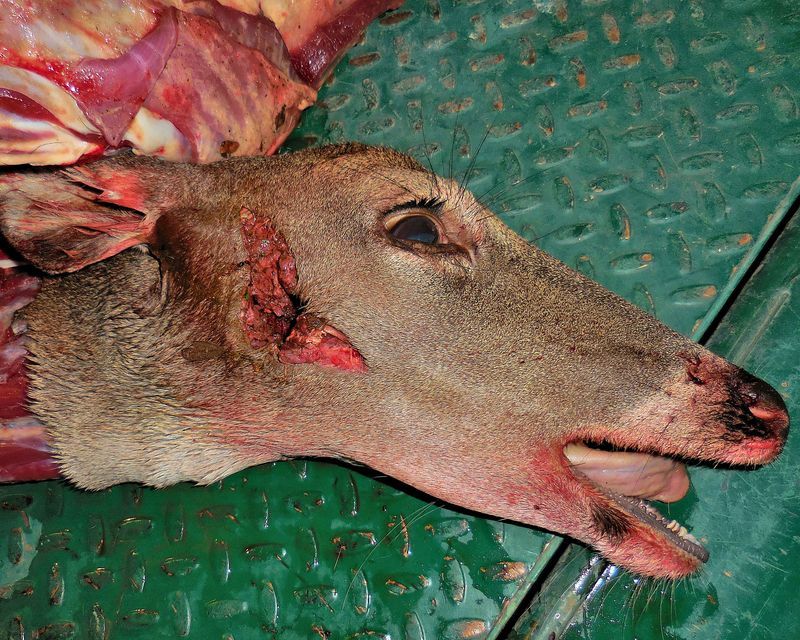 My friend shot his doe "broadside" with a 168gr A-max out of a .308 Winchester. The round went in her left eye and out the right eye.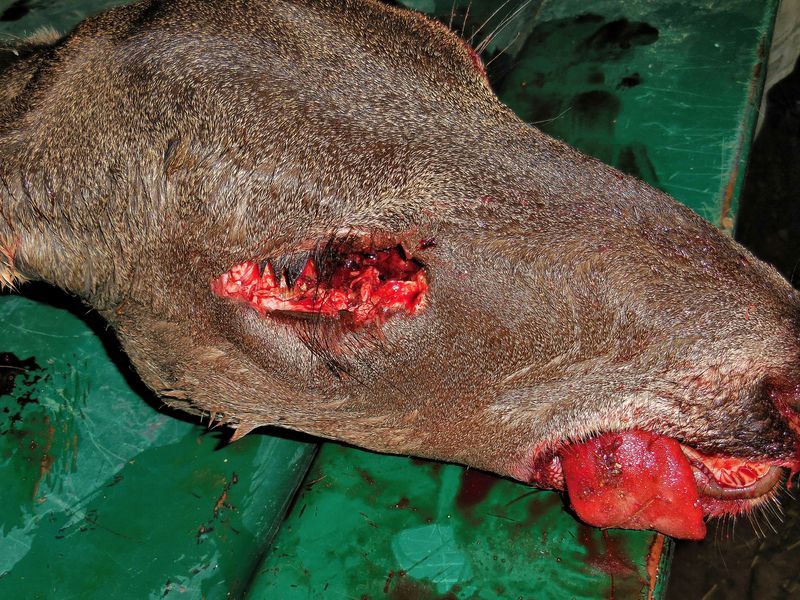 Not much science to it, but it was fun to get at least one deer on video.
"To Hell with efficiency, it's performance we want!" - Elmer Keith