Home
›
Main Category
›
Hunting
Hunting Trip to South Africa
Ernie Bishop
Posts: 8,609
Senior Member
I had an amazing time last week!
Waterbuck of a lifetime. Double kneeling off of Bog Gear. Tried both prone and sitting, but there was too many limbs in the way.
Even with double kneeling I had to thread the needle so to speak. Relatively short shot at 176 yards I think (Could be 167). One shot and 40 yards later he was done.
Thanks to Thinus Steyn (Big Water Safaris) and Philip! Had a hunting/shooting buddy with me too, Todd Fischer.
Another very good friend, Darrell Holland had hunted with me on my first day. 7mm Dakota XP-100/180 Grain Berger.
He weighed 750 pounds. Thinus never measures animals but this one was so big, he said he couldn't help himself.
Horn length 29.5" and 30". Bases both 10". Green score SCI 79.5" PH doing the measuring
Springbok at 80-90 yards standing
Warthog at 35 yards.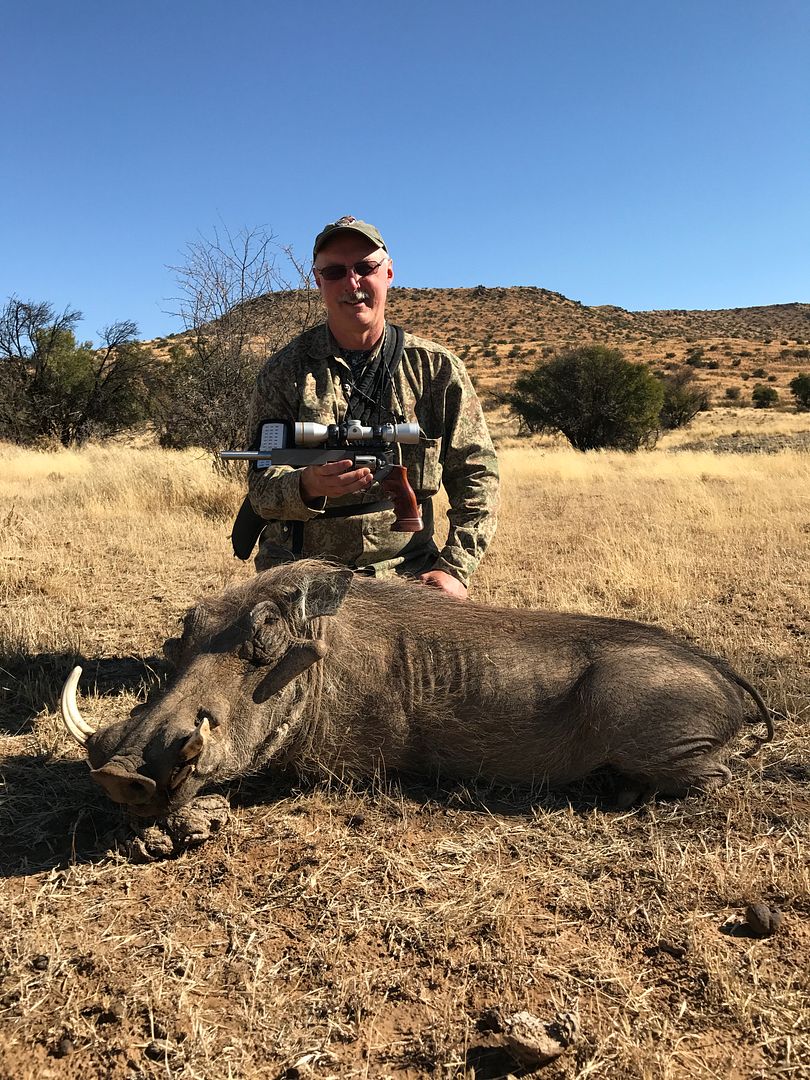 Kudu at 350ish, kneeling shot.
Jackal at 100 yards standing
Blesbuck 340ish sitting shot (Corrected distance)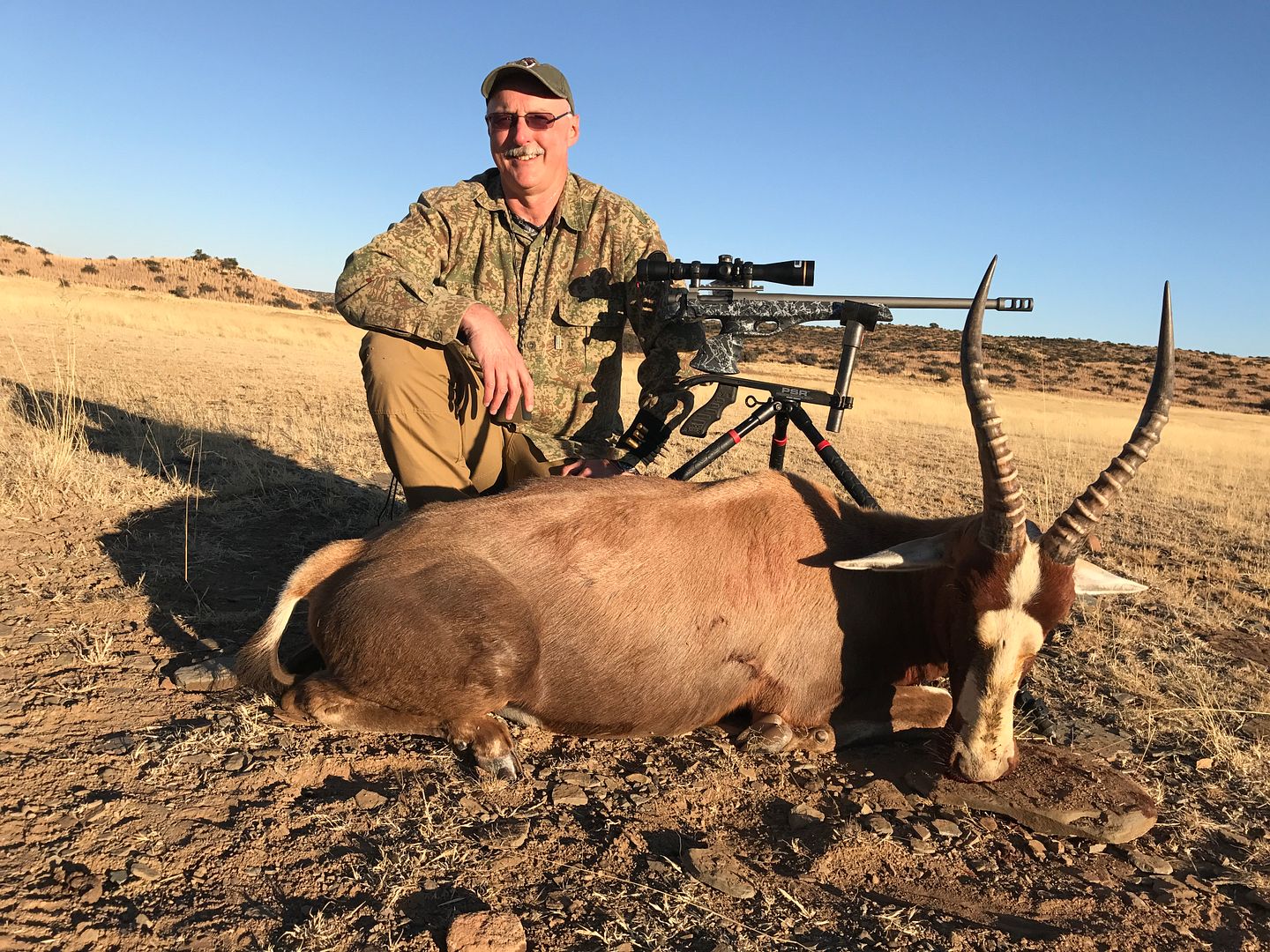 Blue wildebeest 155 yards proneish on a rock
Eland sitting and shooting off of a rock under 200 yards.
Springbok at 395 yards, shooting off a termite mound.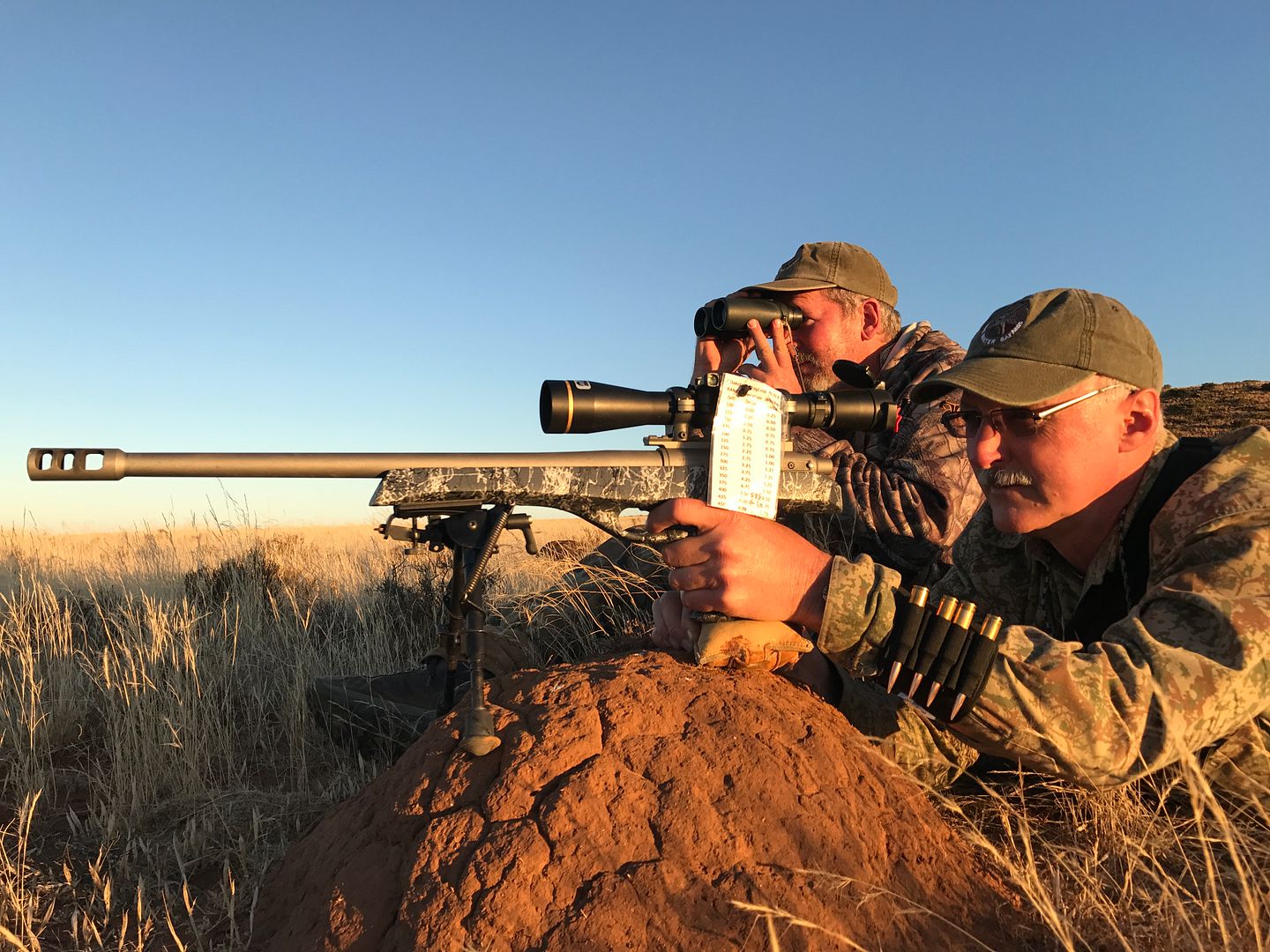 Of the 16 animals, at least nine of the kills I used the Bog-Gear (sitting, kneeling, and standing).
I learned a lot of things.
Since there was no stand hunting, or just get out of the vehicle and shoot over the top of it, hunting or ground blind hunting--all spot and stalk or still hunting.
Most of these animals do not hang around very long and the springbok are like squirrels on crack.
I walked from 7 to 10 miles per day and one day we went 12 miles.
I need a flexible, yet light, yet stable, shooting rest that is quick to change from sitting to standing or kneeling.
The Bog Gear is too slow to switch quickly from sitting, kneeling, and standing.
There was almost a handful of times where I missed a opportunity when I ran out of time to make the shot by 2-8 seconds
The only time I used my bipod (The one exception was my Highwind blesbok) was when it was on a big rock or on a termite mound.
Next time I will probably go with the cartridge no larger than a Winchester short mag or a short action ultra mag in 6.5 or 7mm.
We had a couple of guys using 6.5 creed Rifles ( 130 grain in 140 grain accubonds) and they did great.
This included Eland, Waterbuck, Gemsbok, and kudu.
I think a lighter recoiling specialty pistol will make it easier to shoot in positions other than prone.
The grass was fairly high there.
The price for a 16 animal package in six days of hunting was $3750, and that included six large animals and 10 small animals.
Blesbuck and springbok are considered small animals.
For South Africa, this is a bargain.
You can also upgrade on a specific animal if you ever want to.
The food and accommodations were wonderful.
When you're being guided by a professional hunter that kills 300 to 400 game animals per year, you are being led by someone with experience that far surpasses the majority of hunters little alone PH's.
Ranch surpasses 50,000 acres.
Big Water Safaris -
http://www.bigwatersafaris.com/about.html
Ernie

"The Un-Tactical"