Home
›
Main Category
›
Hunting
Scored a smokepole turkey and tagged out in Nebraska!
I've been itching to fill my final Nebraska turkey tag with my 20 GA Tennessee Valley Muzzleloading flintlock fowler. So, I got together with a co-worker this morning and we took his boat to some remote public land. The area has a bunch of birds, but the walk-in accessible portion gets a decent amount of pressure. The back side - only easily accessible by boat - sees virtually no pressure. Going to this side would make for an excellent hunt.
My hunting partner started off calling for me and did a fine job. With my decoys out in front of us and the bird distracted by his rubber lover, he ultimately lured this bird into just 20 yards, the sweet spot for my 20 GA fowler. It goes without saying that 70 gr. of Goex FFg authentic black powder and 1+1/8 oz. of # 7.5 shot at that range was instantly lethal.
This bird was a "tween": he had a stub beard, spurs that were only 3/8" long and the last set of his fan feathers were not quite even with the rest. It made no difference - I was extremely happy to have finally put a turkey down with this gorgeous gun.
A few minutes after we collected my bird and let the woods settle, I jumped on my new Matt van Cise custom box call to try and return the favor for my co-worker. We moved away from our spot by only about 50 yards when my calling was answered by some very distant birds. We decided that we had a great spot where I had just shot my bird, with lots of shooting lanes, so it only made sense to fall back and call these new birds right back there.
I took my dead bird and faced him toward the approaching gobbles. Then I took a stick and leaned it in his fan to prop it up in order to use him as a strutter to accompany my inflatable Avian-X breeder hen decoy. It worked like a charm. For the first time ever, my calls actually out-worked a real hen who was trying to lure the inbound bachelor group to her! After a long wait, the gobblers showed up inside of 25 yards, and my buddy laid the smack down, killing not one, but TWO mature birds with one shot, and filling his last two tags!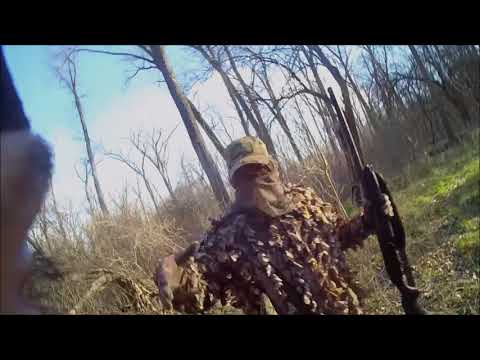 It was an amazing day. We were both completely tagged out for the 2018 Nebraska Spring turkey season by 9 AM!
Accuracy: because white space between bullet holes drives me insane.