Home
›
Main Category
›
Hunting
Iowa archery buck down: the Traix helps me score my new personal best
With a snowfall looming and the rut in full swing, me and a buddy went to bow hunt his newly purchased Iowa property.  We've seen some great deer the past few times out, but not quite had the angles or distance we needed to seal the deal.  
This morning a deer started moving in toward my stand fairly early. It took me a while to realize that this was a buck that I had seen before, but did not previously have a clean shot.  At about 7:00AM this morning, he moved in much closer.  The problem?  Just as a drew, he decided to stop and make a fresh scrape.
So for over a minute, I had to hold my draw and wait for him to clear the branches covering his vitals.  Finally, he offered a clear path to his ribcage, slightly quartering at just 13 yards.  At the arrow's impact, he darted up a nearby hill (snapping my arrow, which was gaping out of from behind his leg), and stopped suddenly at 35 yards, just 22 yards from where he was hit.  A couple of seconds later, he went down and stayed down.  The Mathews Triax got it's second deer overall and its second Iowa deer for the season.  Best of all, this is my personal best buck - a 10-pointer with split brown tine, light palmation and a weird kicker point that's just plain cool!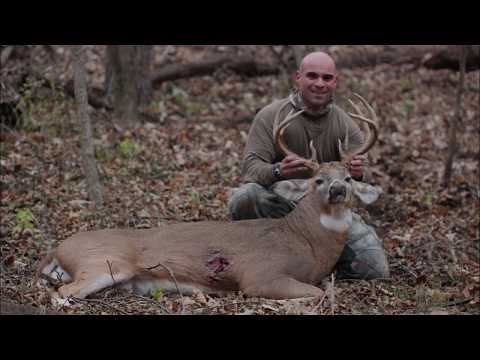 The 125 gr, Rage Hypodermic that I have cursed in the past is, well...forgiven.  That's now two good, fast kills it has made this season.  This one was a no-doubt hammer shot that opened a staggering entrance hole, and a small exit hole where it *should* have penetrated completely if not for impacting the offside leg:
One thing to note about Rage blades is that once deployed, they aren't terribly tough.  The blades do some devastating damage because of their wide span, but often break.  The good news is that they are easily replaced with a relatively cheap overhaul kit.  The one used today is already all set up with new blades and back in my quiver:
After I climbed down, I went over to check out the size of the scrape that the buck had just made moments earlier: 
Needless to say, I was a happy camped on the ride home.  I'm tagged out in Iowa and leave for my annual Montana trip tomorrow.
Accuracy: because white space between bullet holes drives me insane.