Home
›
Main Category
›
Hunting
Hunting, preparing for hunting, shooting steel, and some dogging
Ernie Bishop
Posts: 8,606
Senior Member
Emily and I had a great Vacation in New Zealand.  Just over half of our time there we spent on the South island, and I was able to get in 2.5 days of hunting while we were there.  This was a private land hunt.   It would have been cool to have been dropped off from a chopper and had a 7 day hunt, but it was not a possibility with our time frame. 
[img]https://i.imgur.com/Tdg5Z2Ll.jpg[/img]
[img]https://i.imgur.com/9EK2Fv4l.jpg[/img]
The Stag was taken with a 338 Lapua at 624 yards, while the Tahr was right at the 350 yards with a 7 mm Rem Mag.  I did so much climbing, my legs hurt for 2 days, and was still sore on the third…But it was worth it.  The picture doesn't show it with the Tahr, but I am exhausted!
[img]https://i.imgur.com/Kq1YduQl.jpg[/img]
We get home on July 13th and I have surgery on the 17th.
August 22nd: First time out since the knee surgery (July 17th).
[img]https://i.imgur.com/jLIlvvul.jpg[/img]
I'm definitely not used to my Dell trigger, after not using one for quite awhile, as I've been using reworked Remington's. If you watch the video you'll see me flinch when the gun goes off the first time.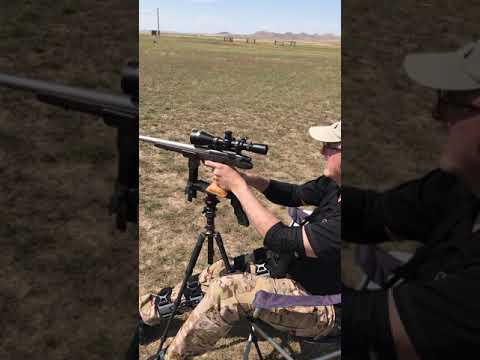 https://youtu.be/R8fQcw6sFRY
It was still a hit but the winds are blowing around 20 miles an hour. I didn't hold off as much the second shot and went off the right edge, and the third shot was a hit. 10" target at 265 yards.  20 BR XP-100 with 55 grain Berger bullets.  Killed prairie dogs out to 345 yards.
On this very lightweight tripod of Dan Ekstrom's, I had hits on 10" steel at 640 yards. How do you say, "more than a half revolution of wind??!!"
Also had a first shot connection at 684 yards, (10") then I missed the second shot…
Did some dogging too with Dan's old Colt 22lr
[img]https://i.imgur.com/uJExkWol.jpg[/img]
 My foot was swollen that afternoon, evening, and following day. 
It was the longest my foot had been down, plus the heat outside.  Thankfully, I have not had swelling like that since that day.
September 5-6:  I am now off crutches, but still have the brace locking my leg out. 
Thanks to Dan again for taking me out shooting!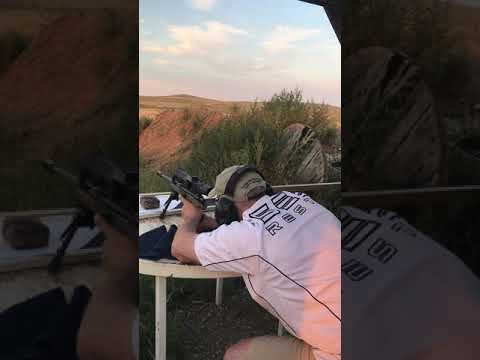 https://youtu.be/NaSxBs6rwtw
The 284 Winchester XP-100 (162 A-Max) with the Burris Eliminator (E-3) with the updated touchpad.
It is so much faster than the original design where you have to reach forward and break your shooting foundation to get range and correction.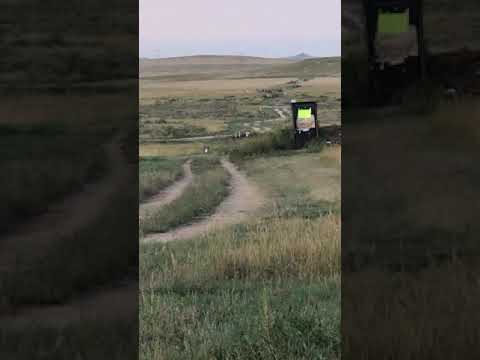 https://youtu.be/V6RkHKbPVZc
Also confirmed drops out to 500 yards with the Pachmayr Dominator 6.5 Creed with 142 grain Nosler LR Accubond.  Shooting standing with a tripod/PSR top and small field bag.
I also shot the 325 Smith at 50 yards today at 10" steel. Standing with a rest and standing offhand. This little critter shoots great. Very pleased.
[img]https://i.imgur.com/xUd4rS4l.jpg[/img]
The 10 of the 12 shots on steel were approximately fist size, with several exceptions: one that went high between the bolts when rested and another one beside it high when shooting offhand.
I missed one shot completely when rested, as a guy shooting a large magnum rifle with a brake fired just as I was shooting (Dan got kick out of that flinch!) and I missed once when shooting offhand
I was standing for each cylinder.  I used the flat part of the PSR (wasn't using the yoke) with a bag under my hands when shooting rested. The Smith never was touching anything but my hands.
September 6th: This was a quick trip out to Chuck's, but got some MV numbers with the 26 Nosler XP-100 with 140 grain Accubond, and did drops out 750 yards…Very windy, but it is great getting out and shooting.
Antelope and mule deer season begins October first, but I will not be able to get out until the middle of the month.  I should be out of my brace on September 17th, but will be wearing it (It will not be locked out then) whenever I am on uneven terrain…hunting.
Ernie

"The Un-Tactical"